How Graphic Designers are Influenced by Social Media
Social media has enabled businesses or social media influencers to connect and become closer to their followers and fans. In doing that, they need to publish high-quality posts regularly to maximize engagement in different platforms.
Social media is more than just status updates and events. It's also a way for brands and social media influencers alike to capture people's attention. By doing so, they need to have more than just photos or an advertisement. They need the help of graphic designers to enhance their posts to the next level.
As social media evolves, so do the types of posts allowed to share on social media, which means anything is possible. That's why graphic designers show off their creativity to help promote brands and influencers on their pages. 
Sometimes, social media can pose challenges due to some size restrictions and viewability. So, graphic designers need not only to cater to client needs but remember some guidelines to follow in posting on social media.
So, in this post, we list 8 ways social media affects how graphic designers create their visuals for clients.
Adapting to Different Orientations
Many businesses or social media influencers want to extend their reach by using different social media platforms. That way, they're able to attract more audiences to engage with their posts. That means, posting not just on the feed but stories as well.
Graphic designers may find it a challenge to remember different orientations for optimal photo or video posting on different social media platforms. Of course, the graphic designer doesn't want to post an outstretched photo or an animation in the wrong orientation.
Here's a quick handy guide for which optimal orientation graphic designers should remember for each social media platform:
Facebook photo & video: Landscape; stories: Portrait
Instagram photo & video: Landscape/Portrait (it'll end up being square anyway once it's uploaded; stories: Portrait
Snapchat: Portrait
Twitter: Landscape
LinkedIn: Landscape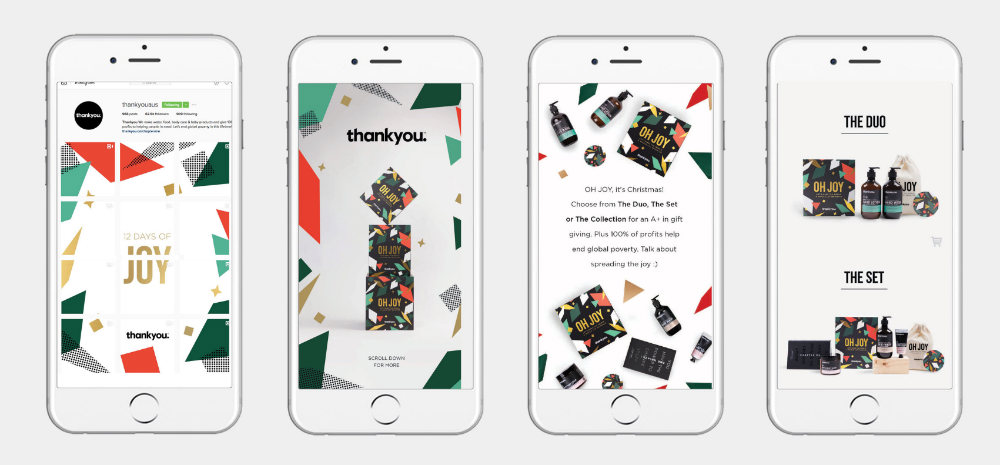 Emily Leung created Instagram visuals for Oh Joy Christmas. There, she created Instagram stories and grid posts for a holiday campaign.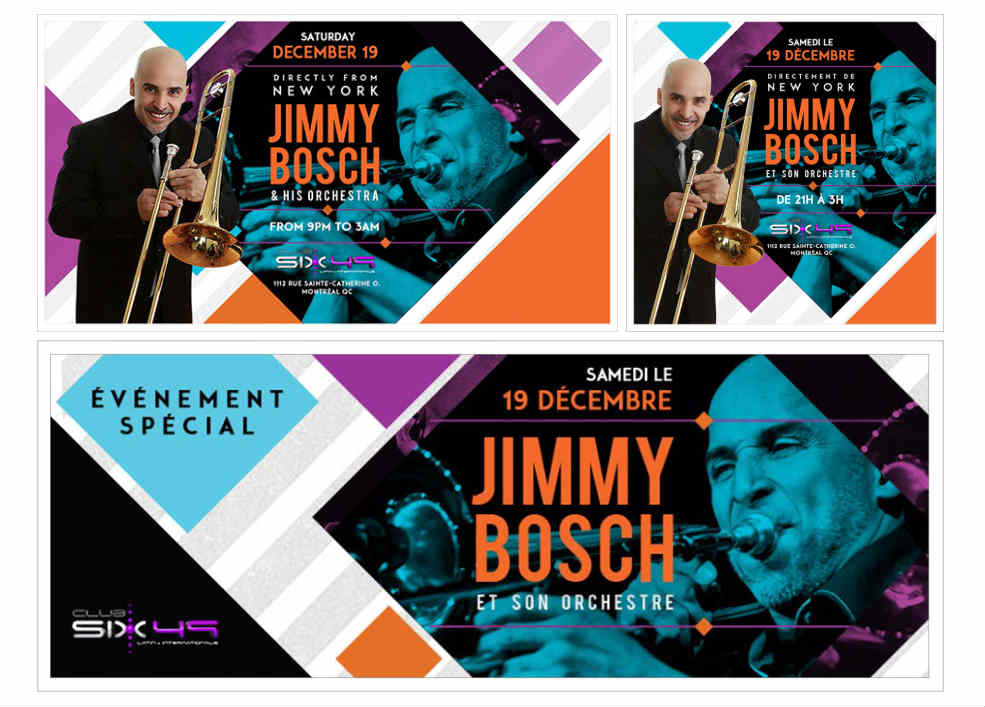 Another example comes from Natalie Joseph. She designed social media deliverables for Club 6/49. She created ads for the events, Instagram images, and Facebook cover photos. As you can see, it's the same design, but presented in different ways to fit the requirements in various social media platforms.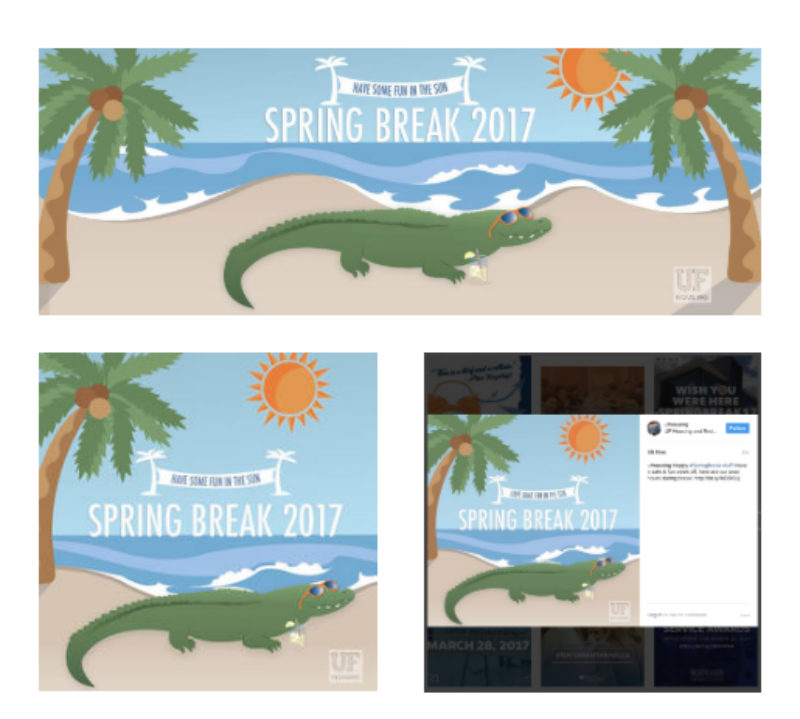 The final example comes from Caressa Basford's design for the University of Florida. She has one design for the Instagram post and a Facebook cover, but she matched the dimension needed on the social media platform.
Remembering Different Sizes
Now that the orientation of the photo is all discussed, what graphic designers need to keep in mind are the sizes too. Due to different posting types (i.e. post, stories), graphic designers need to adjust their graphics as well. It's not just the post that a graphic designer has to consider.
There's also the cover photo and the logo of the brand. Meanwhile, for videos, graphic designers should also create a custom thumbnail as well. Sometimes, graphic designers have to create ad designs also.
For reference, here are the optimized dimensions for each social media post, according to Sprout Social:
Facebook: 1200 x 630
Twitter: 1024 x 512
Instagram: 1080 x 1080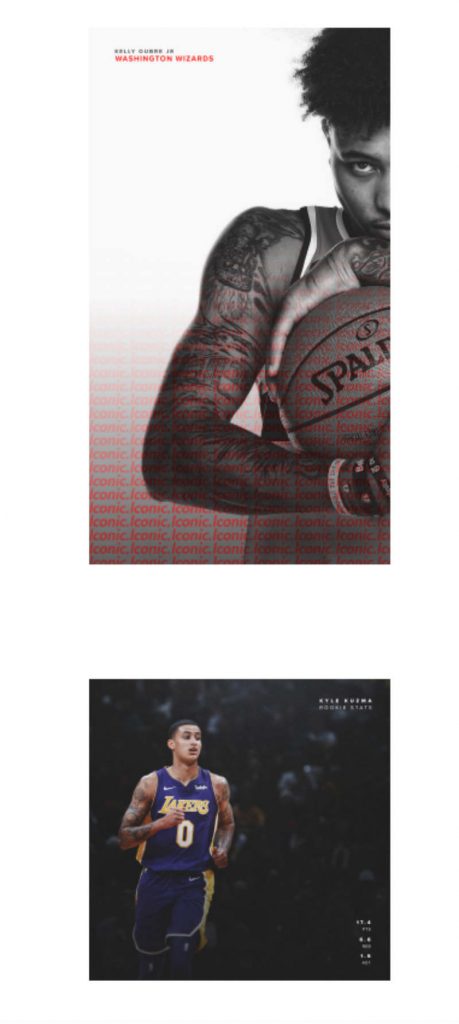 Dan Goldfarb created social media images that featured athletes. He mentioned he posted it on different social media sites. So, the images have different sizes because of the guidelines provided by the social media site. That way, not only does the graphic design look high-quality, but it's optimized to view for mobile.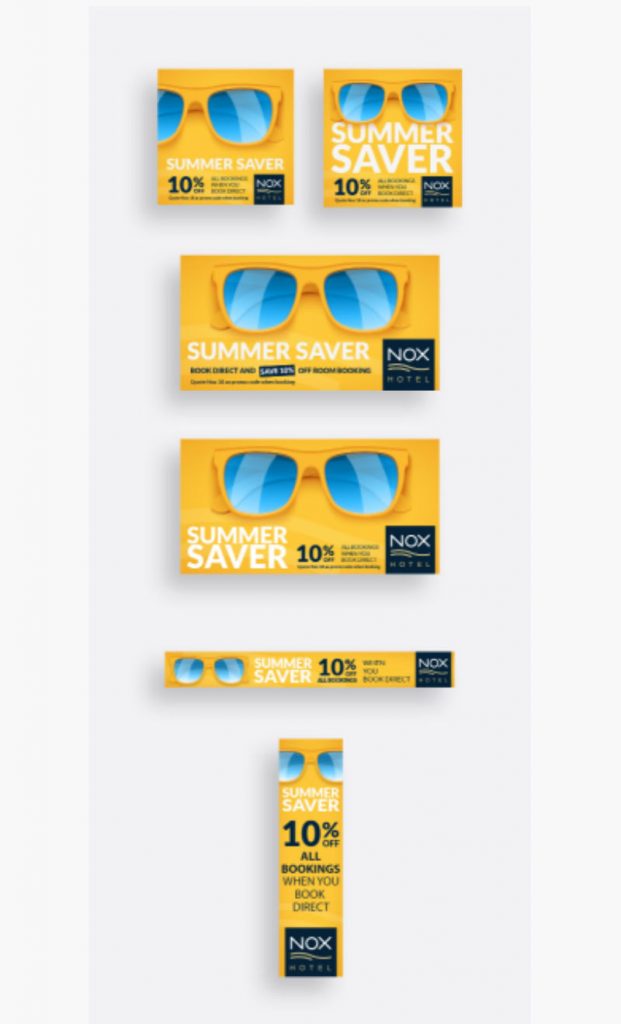 Another example comes from Stephen McGuigan. He created different social media graphics for Nox Hotel. He used one design but he tailored the size according to the type of deliverable needed (i.e. ads or postings).
Using Templates
For graphic designers that have to create graphics consistently, it's important to create custom templates. That way, not only do they have to remember different posting orientations but dimensions as well. It also can make it easier for the graphic designer to make their graphic on the template rather than creating one from scratch.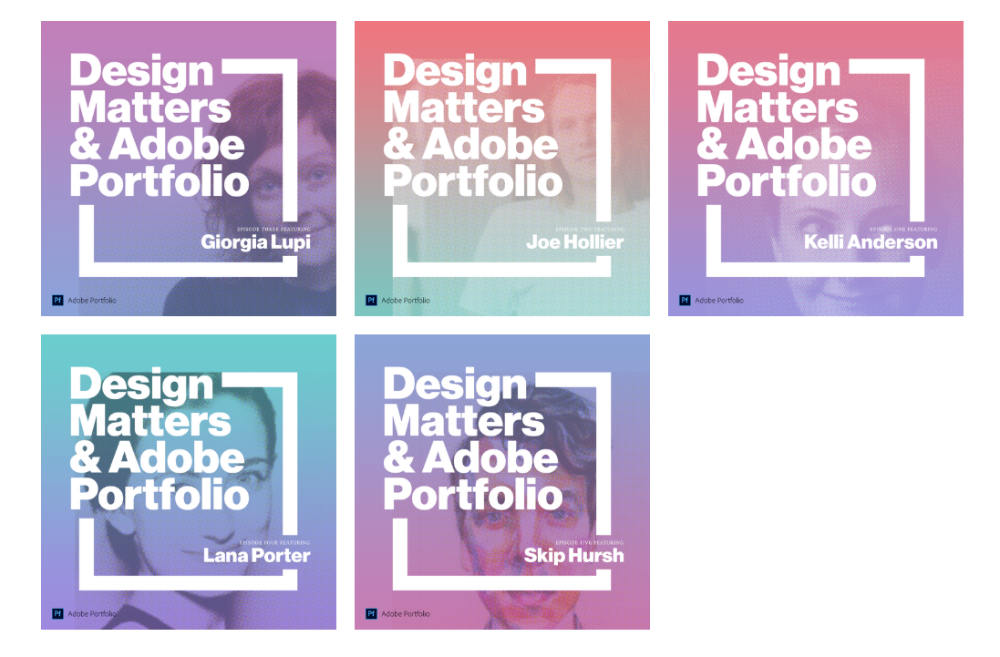 Jeannie Huang, a graphic designer, has social media graphics that seem to have a template. She created Instagram graphics for the Design Media Podcast. As you can see, while there are subtle changes to the color palettes, the design follows the same structure. In this sense, having a template would save up some time.
Creating Custom Graphics
According to Smart Insights, there are over 3.3 million Facebook posts and 448,800 tweets every minute. Due to the volume of posts, businesses and influencers need to stand out from the crowd. By doing so, they publish other forms of content such as videos and photos.
Social media influencers and businesses aren't limited to posting just photos of their business or themselves. Graphic design has come along way, and many graphic designers can create gifs, infographics, animations, and videos to spice up their content.
So, graphic designers need to branch out to other visual assets. That way, a brand or influencer's social media posts have variety.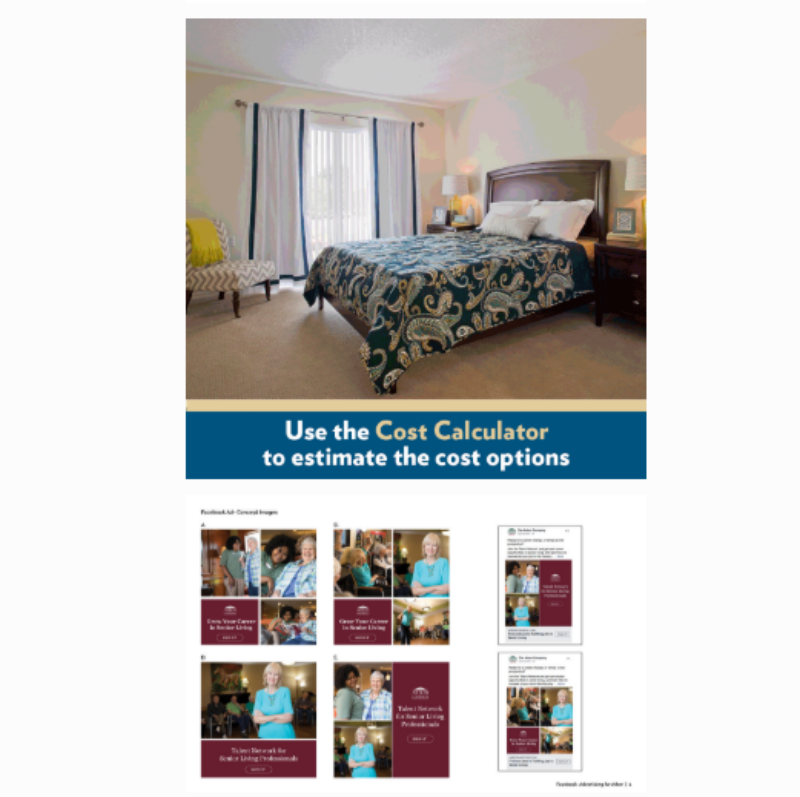 For example, Jill Miller created social media ads for different clients. Not only was it for the carousel type of ads, but she created gifs or animated ads for some clients.
Following a Visual Hierarchy
To engage with an audience, presentation is key. According to Sprout Social, visual hierarchy refers to graphic design elements that will help in readability. Infographics and typographies usually follow a visual hierarchy to make everything look pleasing to the eye and easy to read.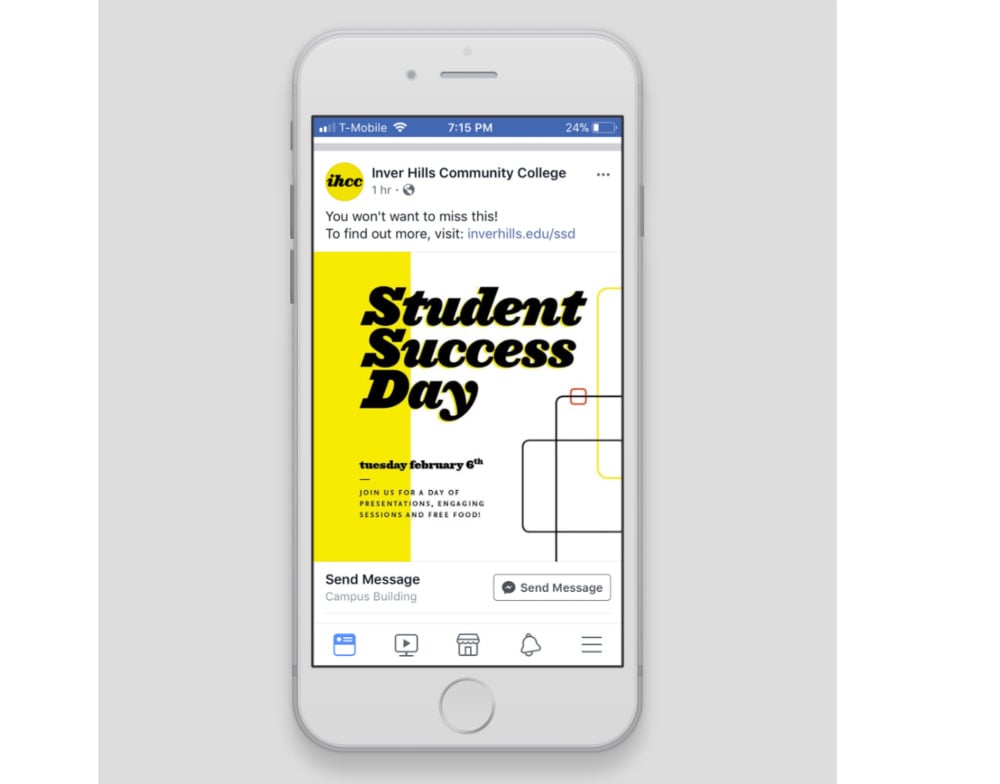 One example is from Cassidy Jelen. It's simple graphic design work, yet it presented visual hierarchy to showcase and emphasize important text. The text is also readable and can pique interests because of the copy present in the graphic.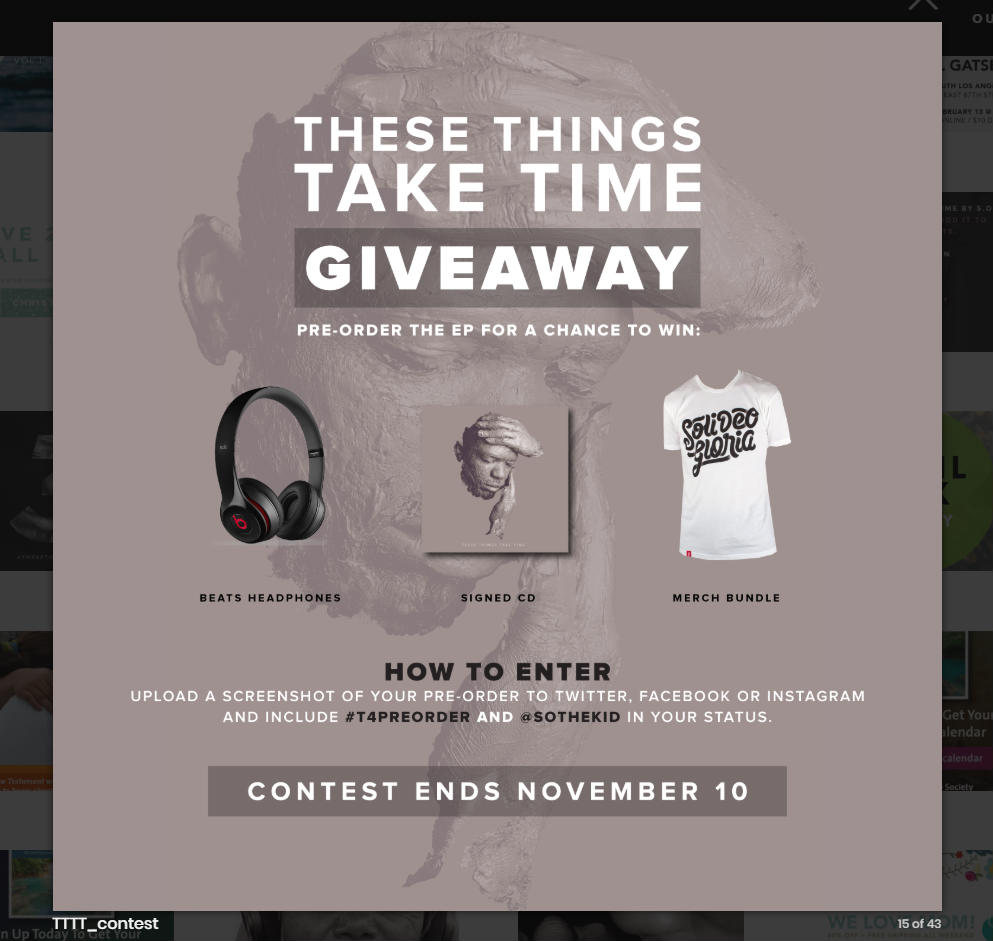 Another example comes from Cabinet Creative. They created social media graphics to promote an album called, "These Things Take Time". On the design, you can see they emphasized the giveaway and date, so people can view the most important details much better. Not only that, they used different colors for guidelines and people to follow.
Experimenting with Fonts
One of the ways that businesses or social media influencers can stand out from the crowd is for the graphic designer to choose different fonts. In many cases, most brands or influencers would use one font for their social media posts. It's to keep it uniform and consistent.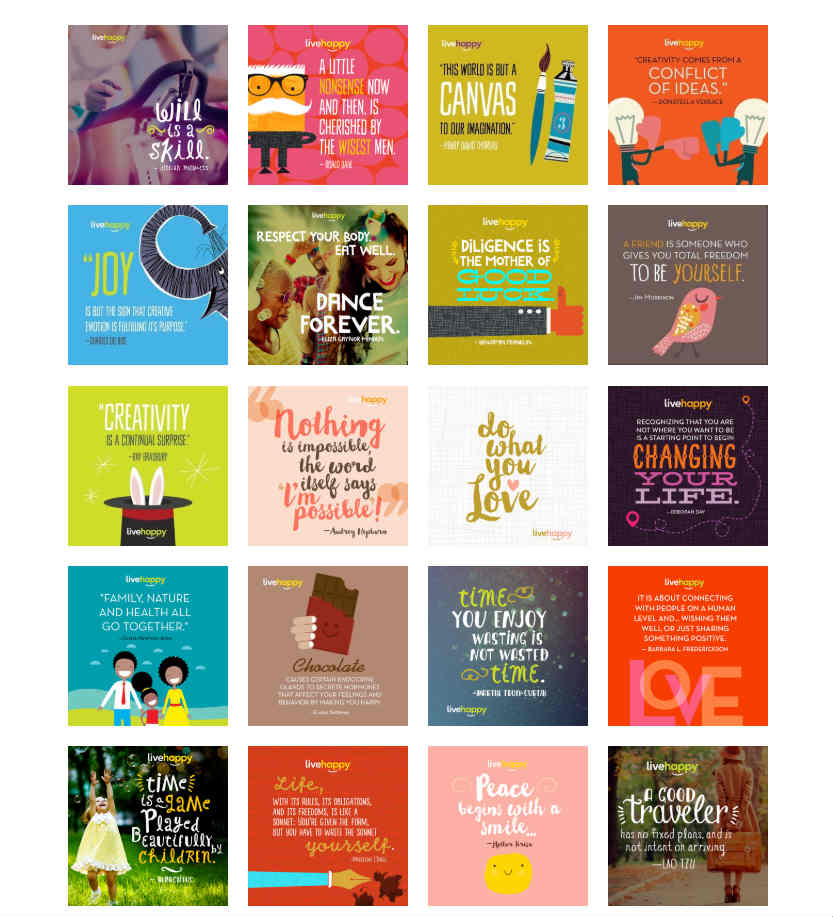 The example comes from Delia by Design where she created different visuals for Live Happy Magazine that would be easy to read by viewers. The graphic designer matched the fonts and other design elements to the quote. Not only that, but she also modified the Live Happy logo to match the dominant color scheme.
Tapping into Audience Mindset
Without the audience, social media influencers or businesses won't thrive on social media. That's why their content should focus on the demographic and their preferences, likes, or association with the brand or the influencer.
In doing this, graphic designers need to adapt to the brand or the influencers' target audience. Color is the most important aspect of creating social media graphic design.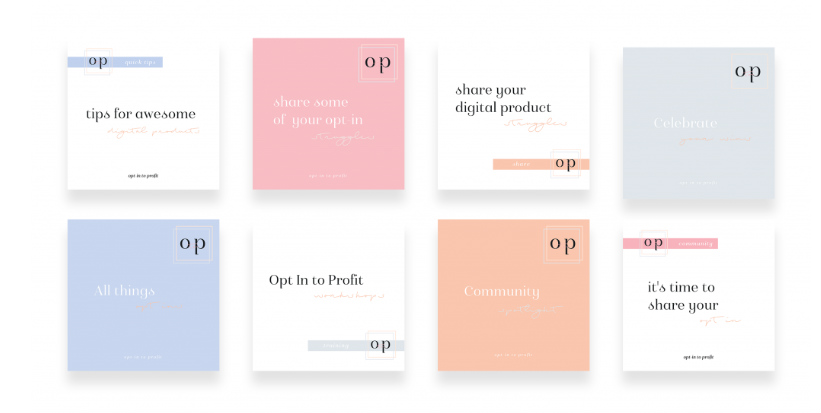 In this example, you can see that Nihaad created Instagram posts for Opt in for Profit. The target audience for Opt in for Profit is women. So, the color scheme matches the colors associated with women.
As with marketing, a graphic designer needs to integrate color psychology so the client can further build their branding towards their target audience.
Keeping Brand Consistency
One of the most essential things that graphic designers should remember when working for a business or with an influencer is brand identity. Graphic designers should adjust to the needs of their clients.
In some cases, some brands or influencers would tell their graphic designer to add the logo or a certain signature that would make the brand easily recognizable by its followers or fans.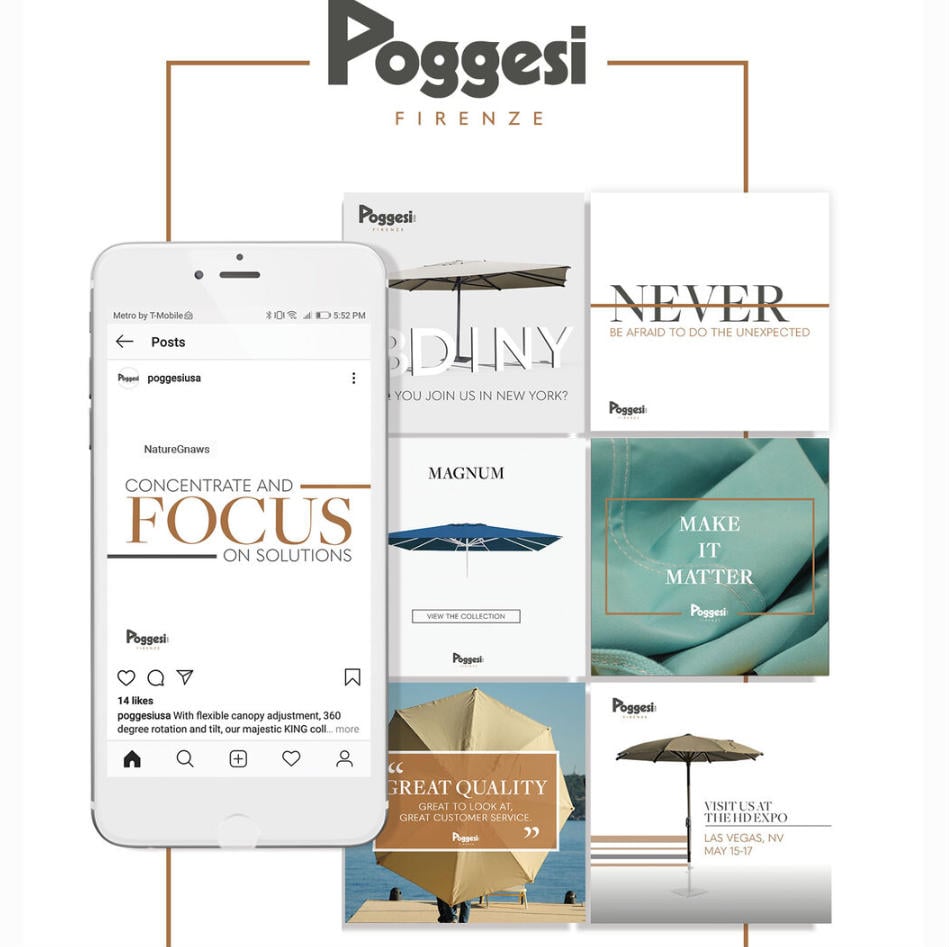 As illustrated by Danielle Brady, she created Instagram posts for Pogessi USA. As you can see in the portfolio, the logo of Pogessi USA is integrated into the social media postings. Not only that, but the color scheme leans toward neutral colors as well. In every post, one can notice that Danielle integrated brand identity.
Key Takeaways
Graphic designers must keep in mind different elements in creating social media graphics. So much of it relies on presentation and size for optimal viewing and engagement.
That's why graphic designers have to adapt to design. It's not only for their clients but also for the requirements set by social media platforms. It could pose some challenges for graphic designers, but it could bring out the creativity in them, as exemplified by the graphic designers in the list.