Same Great Workout for Less: The Best Peloton Alternatives You Can Buy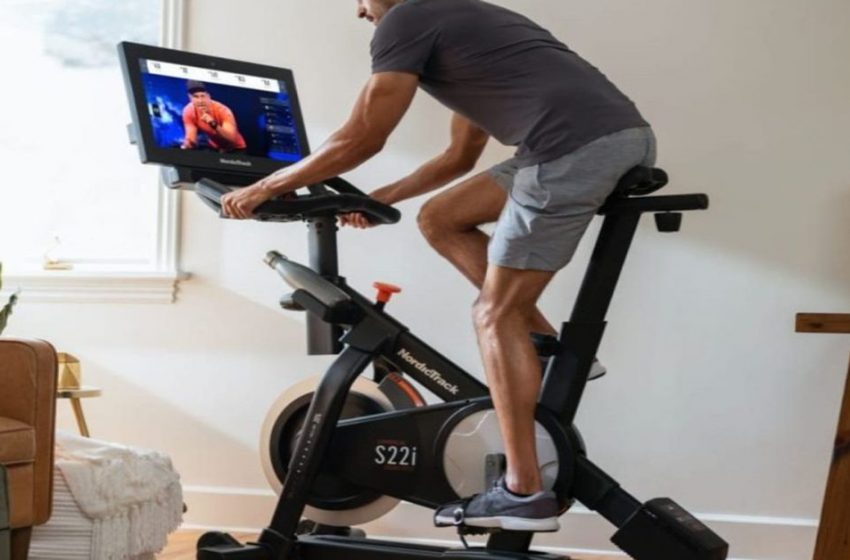 You might be thinking about jumping on the smart exercise bike bandwagon. But before you splurge on premium bikes, it's better to check more affordable options in the market. Brands like Bowflex, NordicTrack, Echelon, Myx Fitness, and ProForm are great Peloton alternatives that offer effective at-home workouts.
The brand Peloton has primarily dominated the fitness market. However, the cost of their fancy stationary bike is steep – even after a 20% price drop last year. Many innovative exercise bikes serve as a Peloton alternative which is cheaper. Sometimes, they carry more features than Peloton. While you can find gyms practically anywhere, nothing is more convenient than working out in your own space.
Sure, Pelotons are great, but here are other high-quality options that we think you should consider:
Echelon Smart Connect Bike EX3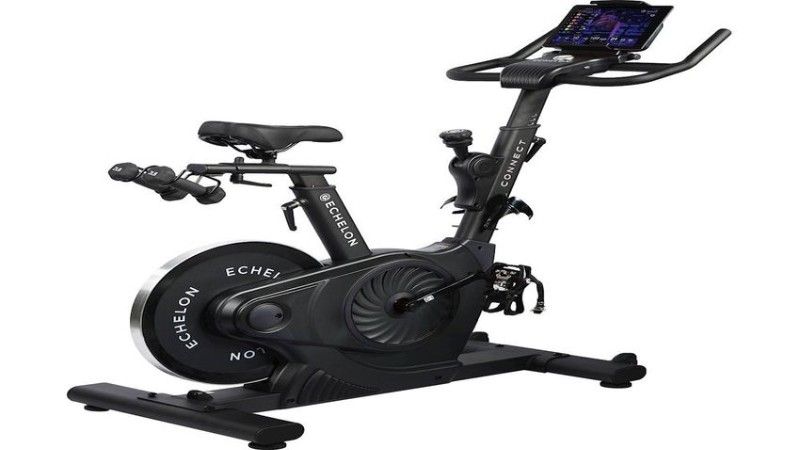 If you are hunting something similar to the Peloton indoor bike for less the price, go for Echelon. The brand offers very identical structures, but it is less expensive. The EX3, for example, only costs $800. You can also get it with a one-year subscription for $1,200.
Echelon's latest EX5s priced at $1,600 look quite the same as the Peloton, thanks to its 22-inch display.
Bowflex VeloCore
Bowflex is a long-standing name in home gym equipment. Their VeloCore exercise bike boasts a feature that no other exercise bike (even Peloton) can provide – the leaning mode. Yes, that's right – the bike tilts with your movement, simulating a real ride and engaging your core, arms, and back.
In addition, the VeloCore scores have adjustable handlebars for a comfortable fit. Plus, it uses a magnetic resistance system on the flywheel to ensure a noiseless ride. You can also subscribe to Bowflex's JRNY membership to access on-demand classes and workouts. The membership also brings Netflix, Hulu, Disney +, and Amazon Prime Video to the bike's console screen for added entertainment.
NordicTrack S15i
A mechanical shaft powers NordicTrack's bike to simulate the rises and drops of actual bike riding. Cycling class instructors can remotely adjust your bike's incline and resistance levels so that you're not constantly engaged with controls. That's one reason the S15i stands out among the bikes on this list.
However, while the flywheel is silent, the rest of the machinery gets loud every time you adjust to your workout. The built-in fan is also noisy, even at the lowest speed.
The bike offers a hassle-free ride, easy to adjust, and is equally attractive. On the positive side, it has a display screen that can rotate for any off-bike classes you might want to participate in.
Myx II Connected Home Fitness Studio
Myx Fitness is a bike with a 21.5-inch screen and original, in-house fitness programming. The Myx II stationary bike costs just only $1,399, with a monthly membership fee starting at $29. Although it is not the cheapest option on the list, it offers excellent value.
The bike itself is as compact as they come, with handlebar height and depth adjusters, reversible pedals, and a monitor that can tilt and swivel. The monitor is a massive advantage over Peloton, as it allows you to point the screen in different directions for off-bike classes. NordicTrack's S15i also does — but more expensive and has a smaller screen.
ProForm Studio Bike Pro 22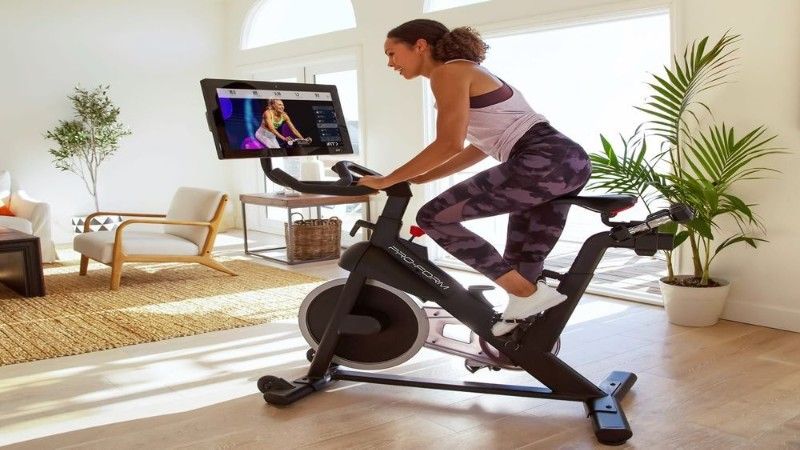 ProForm's deal is real and fantastic. Allocate $39 for an iFit monthly subscription, and the bike is yours for free. You have to maintain that subscription for three years, but that brings your total out-of-pocket cost to right around $1,400. That's what you'd pay upfront for a lot of bikes, and then you'd still be paying a monthly fee on top.
The bike includes:
A silent flywheel.
Height-adjustable seat and handlebars.
Digital resistance settings.
3-pound hand weights.
A 10-inch touchscreen that can rotate 180 degrees in any direction is helpful for any off-bike classes you want to conquer.
Bowflex C6
Bowflex c6 is the best no-subscription exercise bike. The Bowflex C6 can pair Bluetooth with various exercise apps, including Peloton's. Aside from that, it's one of the lowest prices of any "connected" bike.
The C6 spin bike looks slightly skinnier and less substantial than more expensive models. But it feels primarily sturdy and makes no noise during rides. And the pedals have toe cages but can also be used with clip-in cycling shoes.
Which bike is the closest Peloton alternative?
The $1,399 Myx II is the closest stationary bike to a Peloton that you can purchase. It is because of its 21.5-inch screen and extensive fitness classes.
But if you're looking to save more bucks, the $800 Echelon EX3 is an excellent alternative. It features Peloton-like classes and a premium design — but keep in mind that you'll need to buy your own screen.
Peloton Bike Plus is still the best if the money is not a problem.
Peloton bikes are, without a doubt, the Bentley of home exercise bikes — a durable and fancy machine that feels like premium gym equipment. But of course, it has a price tag to match Peloton's innovative features. It costs $1,495, including delivery and installation. Plus, a $39 monthly subscription for on-demand and live fitness classes. Take note, that's just for the original bike; the newer Peloton Bike Plus costs $2,495.
So, before you decide which Peloton alternative to buy, always consider several things like cost, size, and display screen. Think about whether you'll need a monthly subscription, too. If you want to simulate the outdoor riding experience, you'll need a NordicTrack's S15i bike. But if your main objective is to get the most value for your money, you would want to consider the ProForm Studio Bike Pro.