These Greeting Card Designs Will Make Your New Year Brighter
It's time to brush off the year that's 2019 and welcome 2020 with new hope and hearty beginnings. Also, 'tis the season to rekindle and nurture past and current relationships with loved ones or business acquaintances.
There's no need to bang your head against a brick wall. Although it does help if you raise the ante, especially if you're in the enterprise world. With tasteful New Year card designs, you could be seeing a robust beginning for your business this coming 2020.
Whether you're sending New Year greeting cards to friends or clients, put great importance on the designs.
Starting the Year Strong with Lovely New Year Card Designs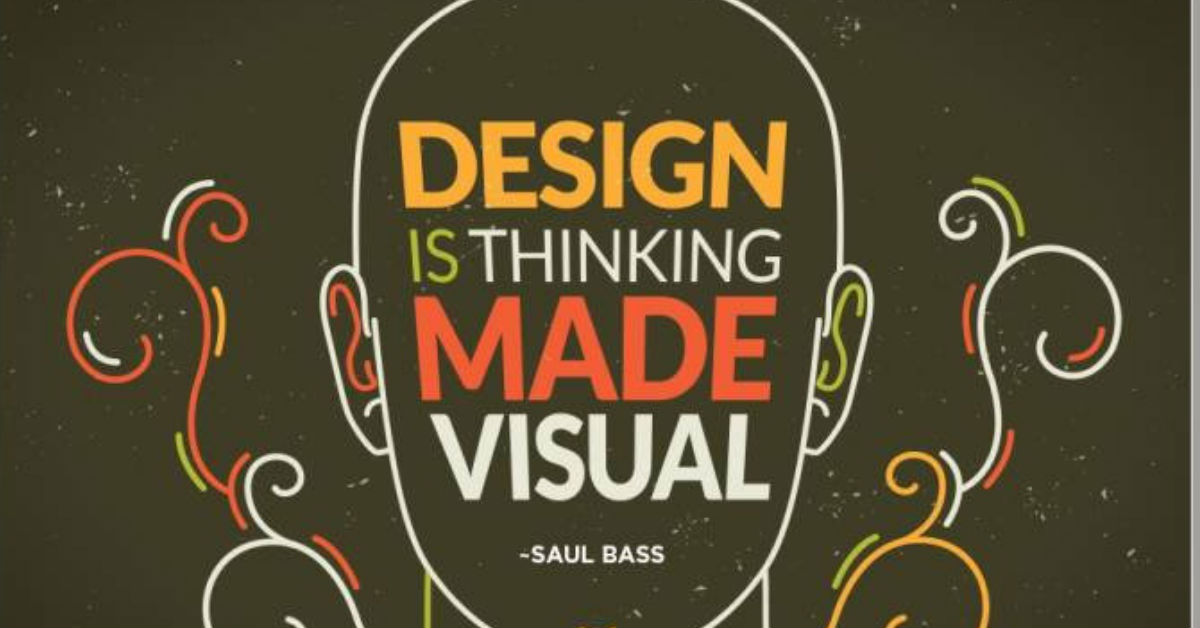 Saul Bass, an American graphic designer, and filmmaker, once said, "Design is thinking made visual."
If you're sending out holiday greeting cards to friends and family, they don't look at the value of the card. It's the design that captivates them. Their worth, as people close to your heart, all boils down to how the design was executed. Make them feel even more special by ensuring the most high-quality New Year designs.
On the flip side, businesses should make this single piece of paper or eCard an expression of their gratitude. Akin to what Saul Bass said, this expression should resonate through the New Year greeting card's design.
This gesture not only fosters business relationships, but it strengthens the inclination towards your brand. As a business, sending out greetings or messages of appreciation will go a long way. 
Best New Year Greeting Card Designs
Tic-tac-toe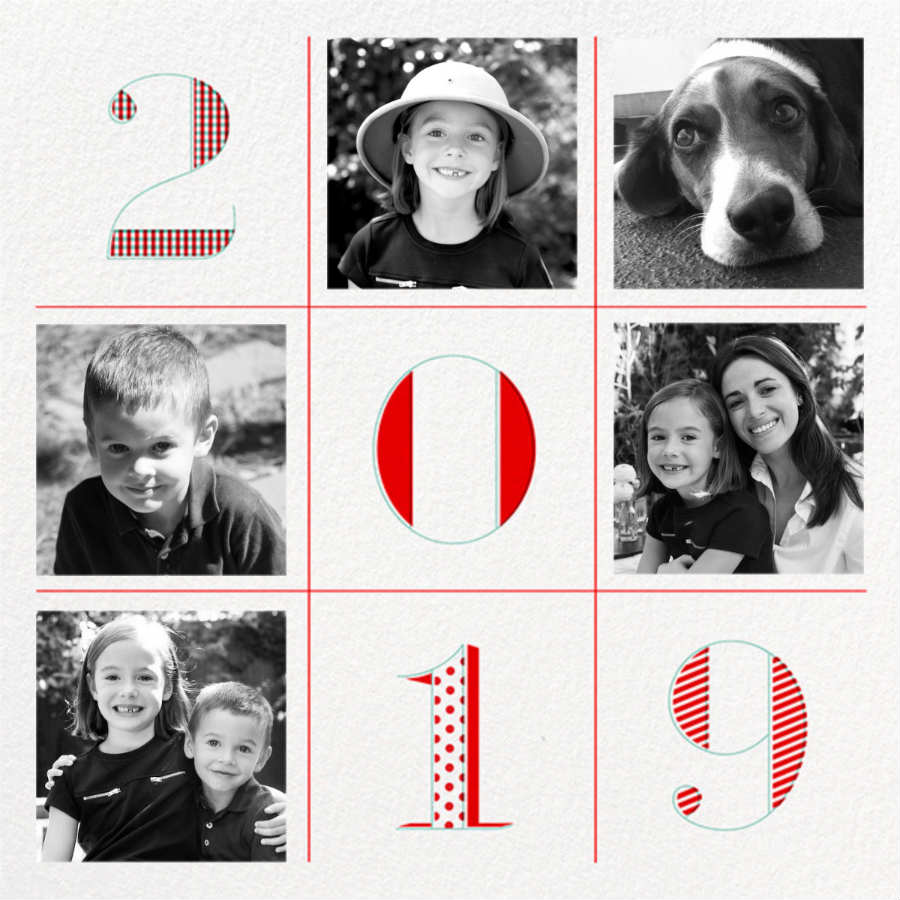 Veer away from the mundane New Year card designs, make yours unique. For personal greeting cards, you can use this fresh tic-tac-toe concept and place pictures on different boxes. For businesses, print pictures of your staff wearing or using your products.
Year Highlights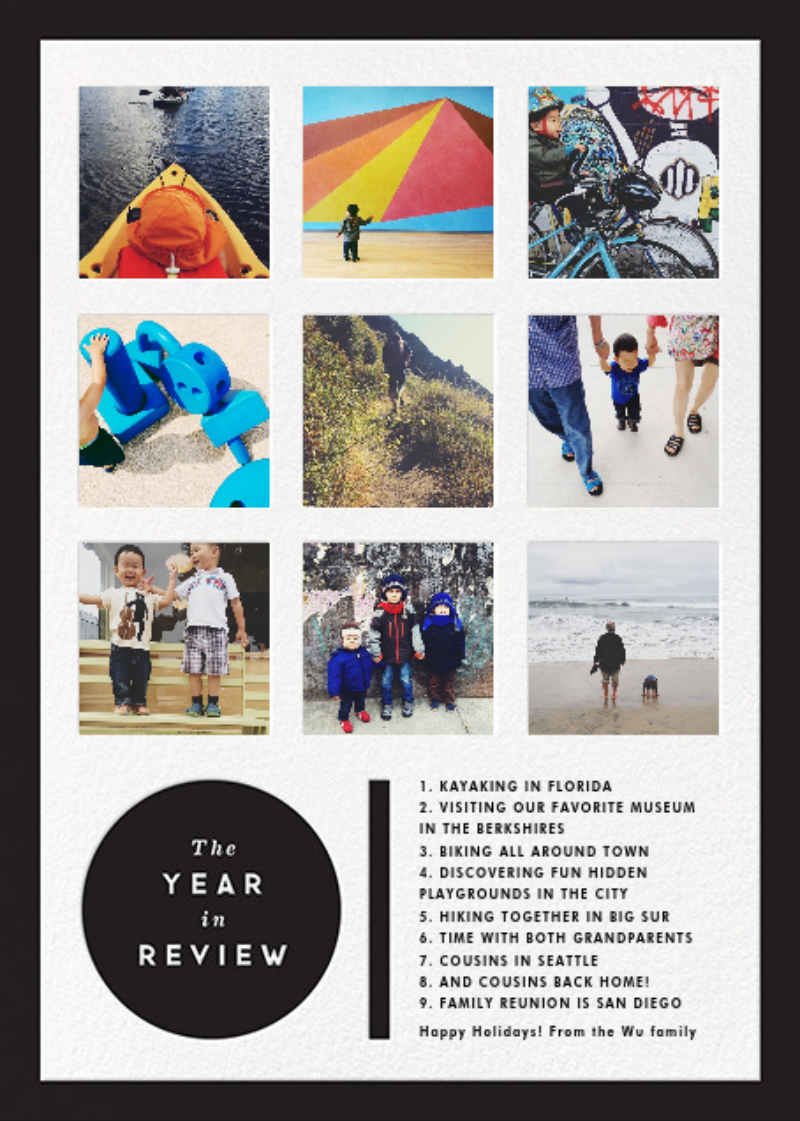 For the travel bugs, here's one idea that'll surely make your recipients' New Year celebration worth their while. You can collate pictures of scenic views from your travels this year and inscribe a special greeting and businesses can put photos of the year's highlights too. It can be a huge event, charity work, an acquisition, or a team get-together. This will give your brand a human touch that your clients can relate to.
Black Opulence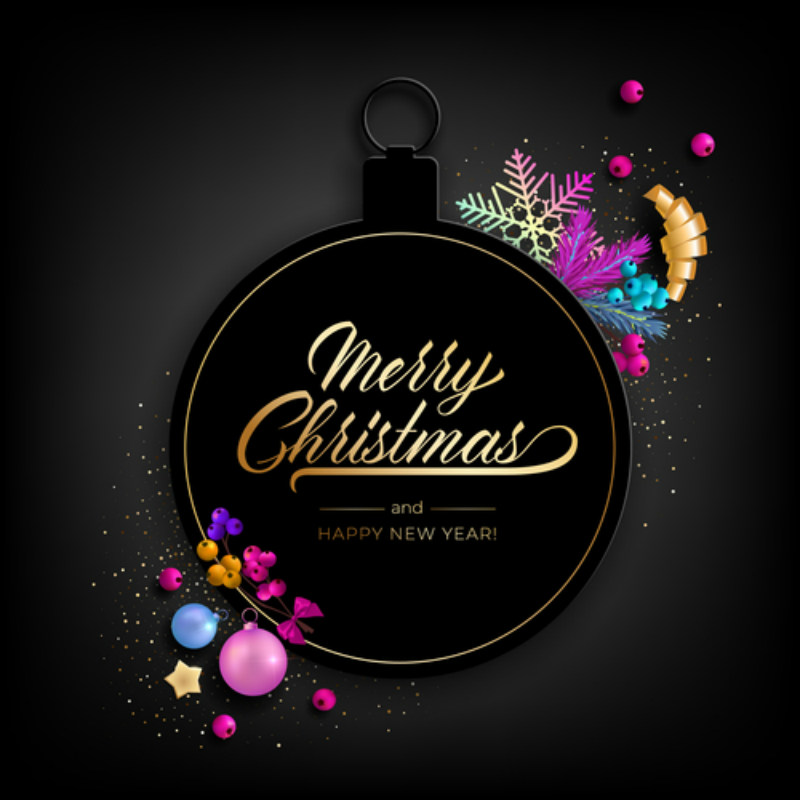 If you want to keep it beautiful and elegant, black and gold work every time. Here's one example that's both exquisite and fun. The gold color, classy typography, and colorful New Year decorations on a black background pop out at first glance.
Family or Staff Photo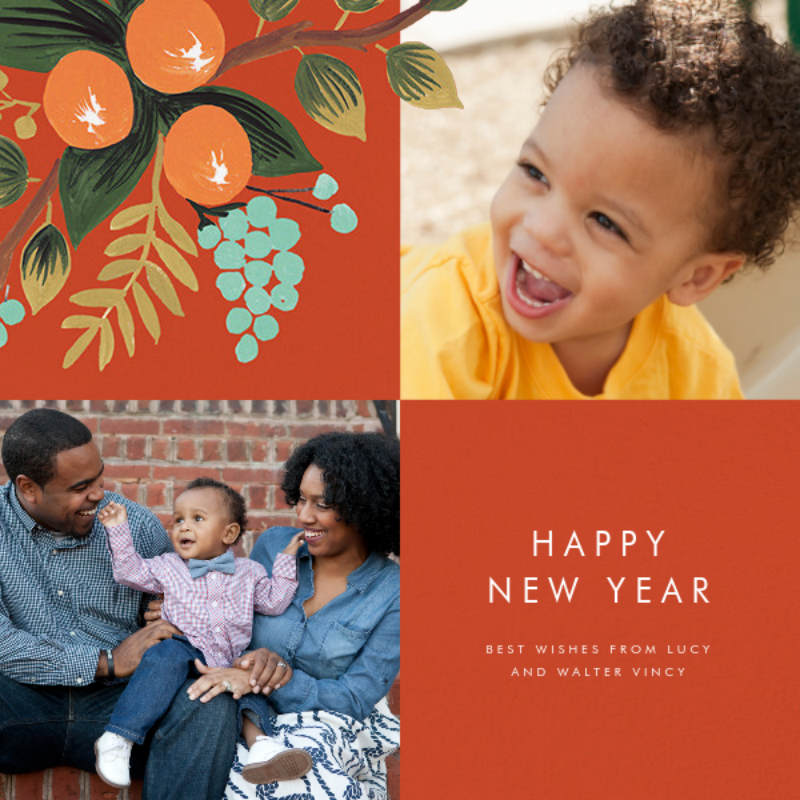 This casual holiday greeting card design is charming and rousing at the same time. It has a picture of a happy family with a solo picture of the kid on top. The stunning watercolor-like illustration and the simple white typeface create an emotional synergy, all in all.
Vintage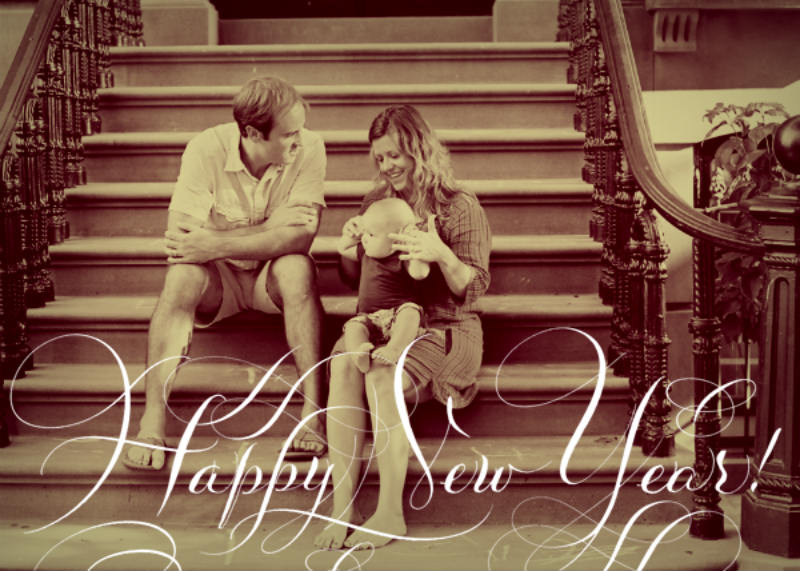 If you want to give your holiday greeting cards a vintage touch, maybe this idea will inspire you. It's a beautiful picture of a family in an antique setting. The vintage-inspired staircase with wooden balusters in sepia and the script font with classic curves make this a stunning masterpiece.
Lines and Dots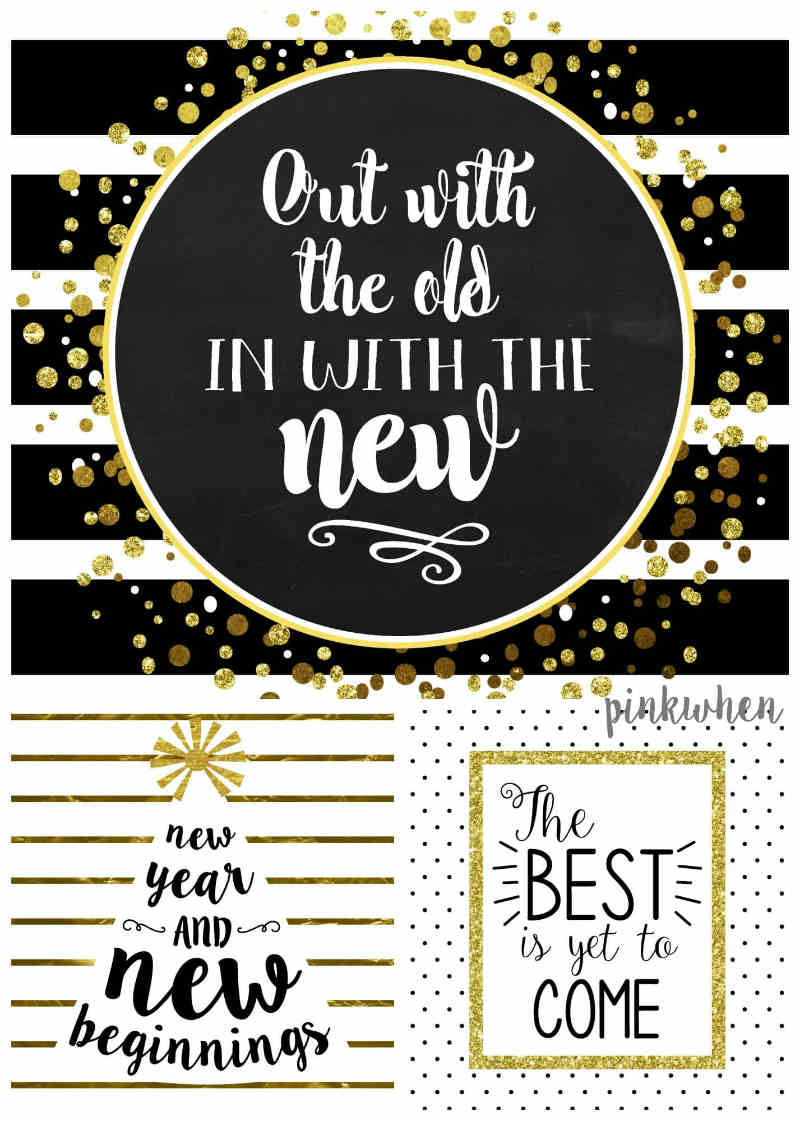 For a chic and contemporary design, use shapes and New Year colors like this one. Vertical lines, rectangles, triangles, circles, and dots, to name a few. Do you know that Filipinos have a superstitious belief about wearing polka-dotted clothes when welcoming the New Year? Since dots resemble coins, it means bringing in good luck throughout the year.
Color Explosion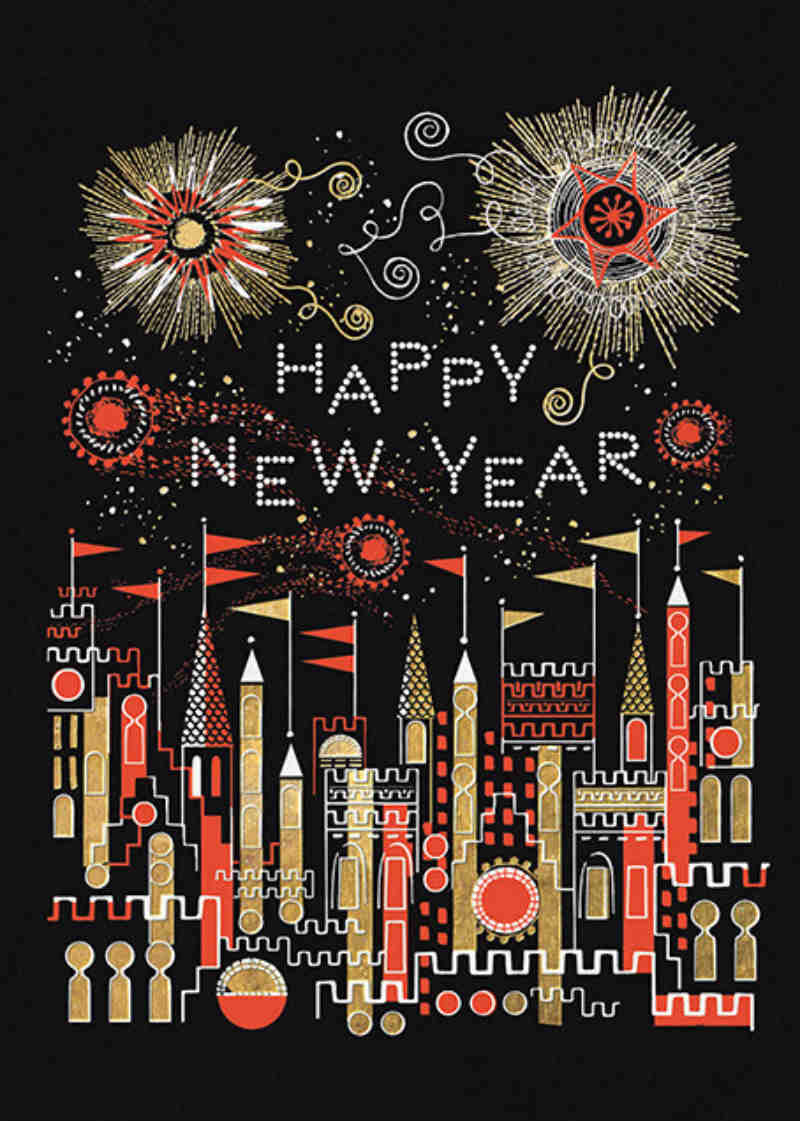 The New Year's celebrations are usually festive, loud, and colorful, and so should your greeting card! This one is clad in attractive castles splashed in red, gold, and white. The eye-popping firework design with nice curlicues, together with the simple "Happy New Year" greeting makes for a cohesive entirety.
Humor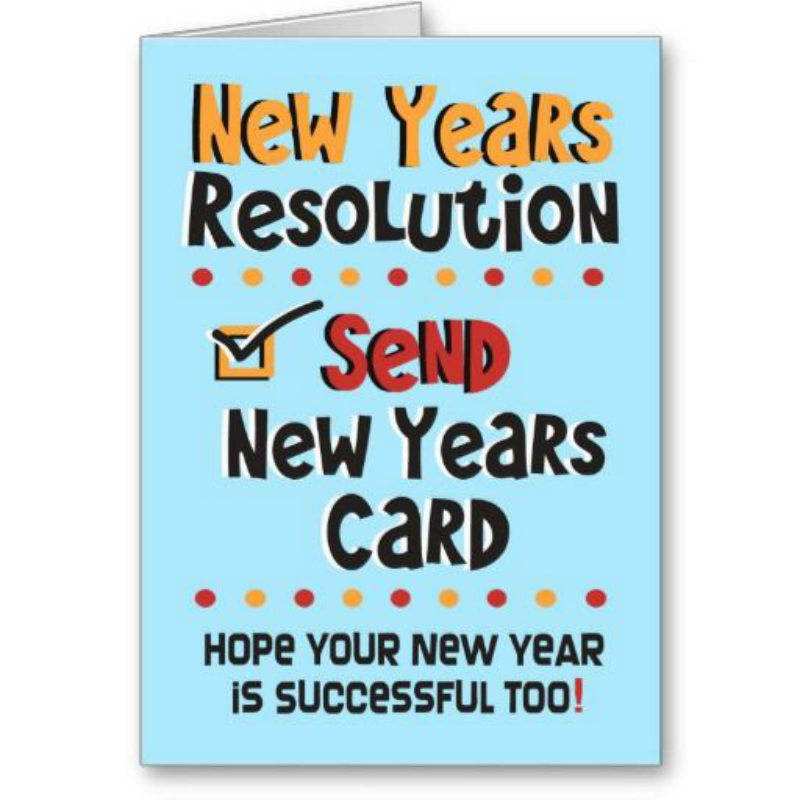 While others are happily celebrating during this momentous occasion, others are also sulking in sorrow. Make someone happy by creating humorous New Year greeting card designs such as this one.
Motivational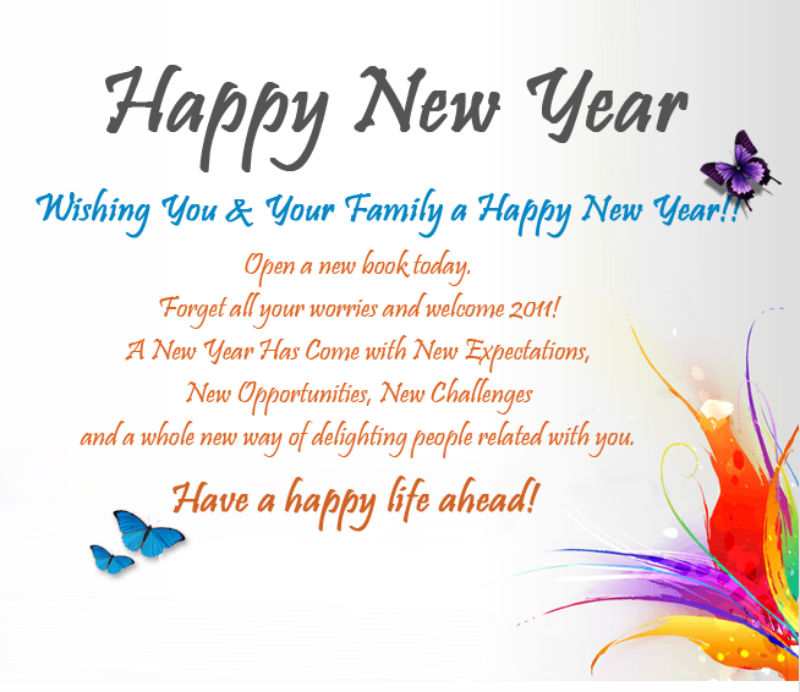 Inspiring someone through holiday cards couldn't come at a better time. This layout might be simple, but the message will genuinely make someone smile. For businesses, you can write a heartfelt thank-you message to your clients, suppliers, or partners for their continued trust and support this year.
Festive Silver and Blue

If you want to tone the colors down a notch, you can stick to the seasonal colors like silver, white, red, or gold. This particular example has fascinating graphics covered in silver and blue.
Photo Montage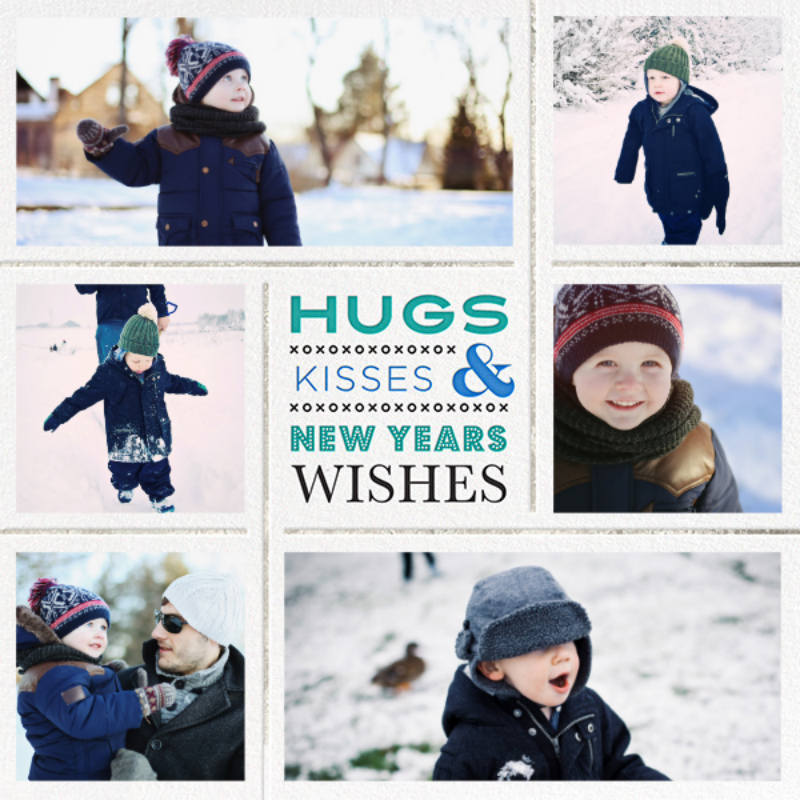 Create a photo montage of anything that represents you. If you want to customize each greeting, curate symbols that represent the recipient.
Minimalist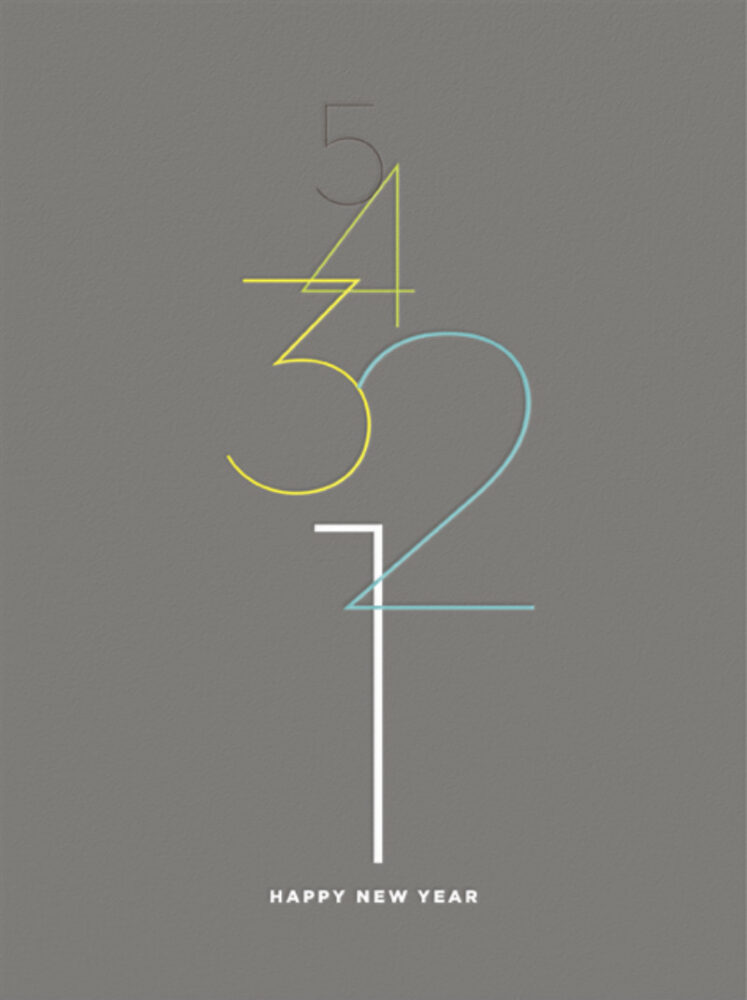 Less is more in design. Having a few elements on your design project doesn't mean you didn't put work into it. When there's creativity involved, minimalism can strip off the complexity in design.
Tropical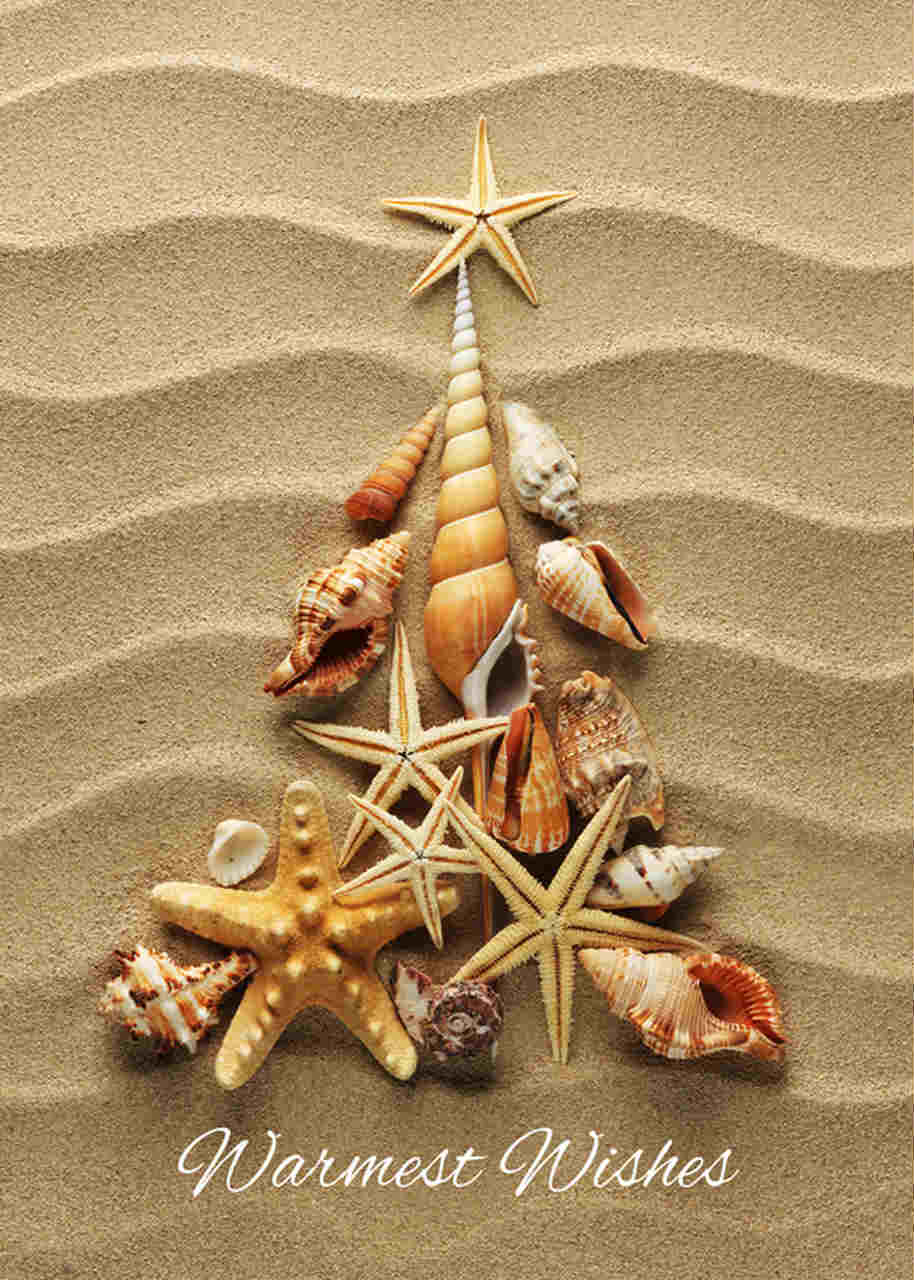 Another way to impress clients or remind loved ones how much you care is through themed seasonal greeting card designs. Pick a theme that relates to your hobbies or branding. This particular example could be perfect for beach bums or a sporting goods store.
Glitz and Glam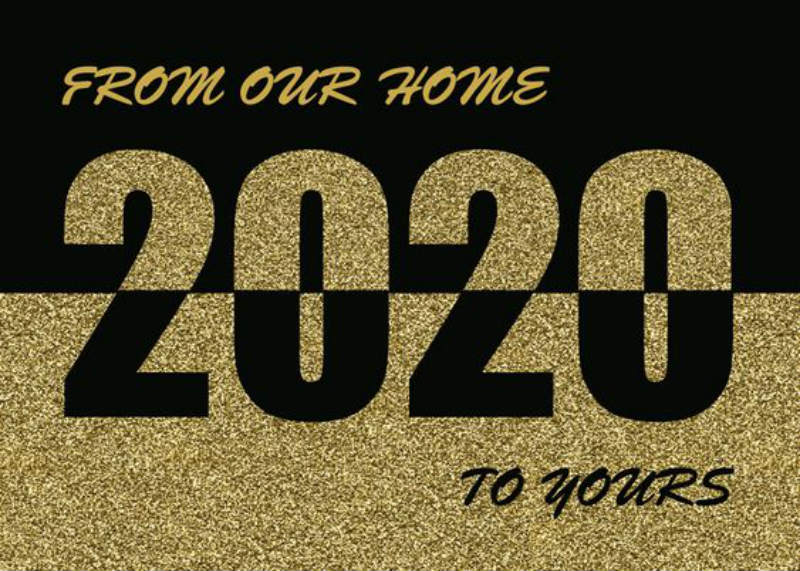 This New Year holiday card has a two-tone color contrast that's clean and glamorous at the same time. The gold glitter against the black background and the black against the gold background were cleverly put together.
Fireworks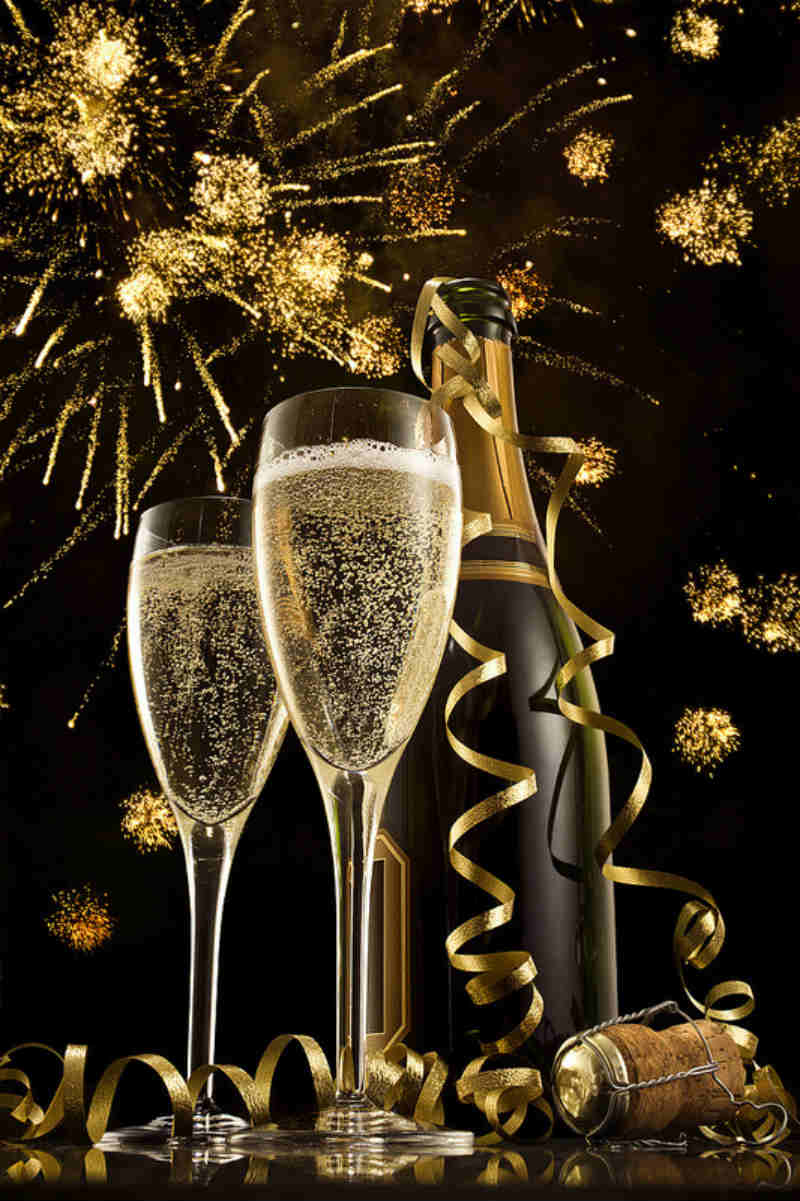 The most observed New Year tradition is a fireworks display. This tradition goes back in ancient times when our ancestors believed that fire and noise could banish evil spirits. Fast forward to the 20th century when champagne also became a New Year staple. Here's one luxurious New Year greeting card concept you should try this season.