8 Best Indoor Gardens For Your Kitchen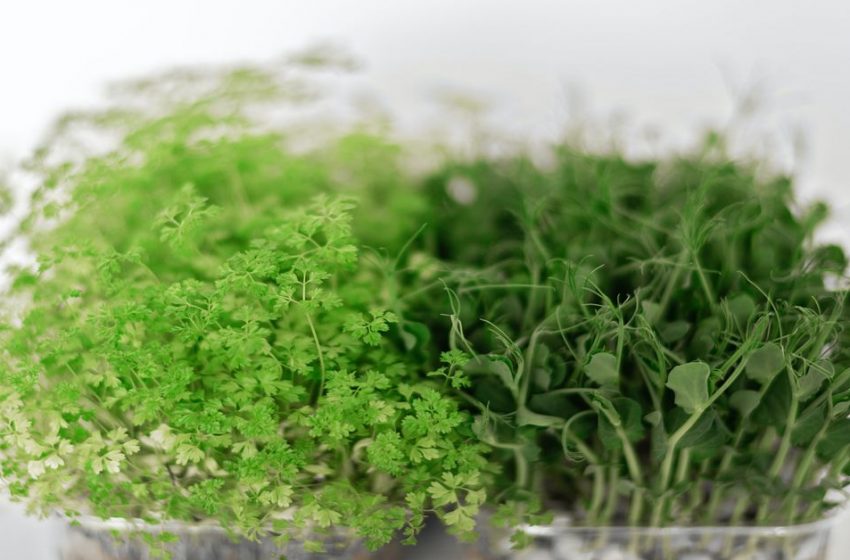 Before, your idea of indoor gardening was probably about placing a plant on the windowsill and watering it. These days, smart gardens like Ingarden, AeroGarden, and Click & Grow allow you to create indoor gardens of all sizes. There are extensive gardens suitable to house entire tomato plants. But there are also smaller ones that are fit to grow herbs, lettuce, or microgreens.
These indoor gardens are powered by LED grow lights and self-watering mechanisms, requiring almost no maintenance or attention. It is helpful for those living in homes or apartments where there's no space for gardening. Aside from that, it's also perfect for gardeners who would still want fresh produce even during the cold winter months.
Here are the best indoor gardens you can buy for your kitchen today:
1. InGarden 
According to nutritionists, microgreens are a largely unutilized source of nutrition. And they are effortless to grow at home. InGarden is a new indoor garden compact enough to fit your bookshelf or windowsill.
The InGarden is 100% soil-free but wicks water up into three seed pads placed above a reservoir. Plus, the LED grows lights under the handle and help the microgreens to grow faster. You'll be surprised to see sprouts in a few days and full-grown microgreens like radish, broccoli, and mustard in about a week. Your produce is the perfect ingredient for salad, sandwiches, soups, and sauces.
2. Click & Grow Smart Garden 3
This fuss-free indoor garden is simpler to operate. It has self-contained seed pods, LED grow lights, and a water tank that requires filling only every two or three weeks. This model is an ideal starter herb garden for someone with a not-so-green thumb.
The Click & Grow Smart Garden 3 consists of three basil seedlings. But other salad greens, fruit, and vegetable seed pods are available from the website for about $3 each. There are much larger Click & Grow models, such as the Smart Garden 9, and the multilevel Smart Garden 27.
3. AeroGarden Bounty Elite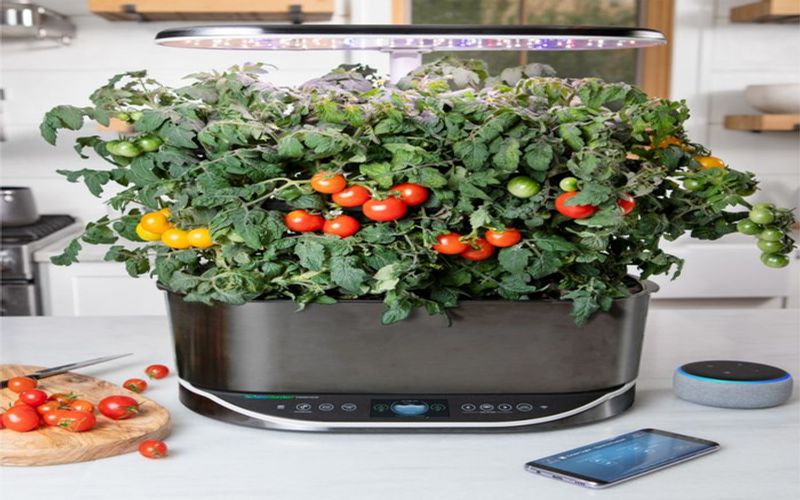 The AeroGarden Bounty Elite is a compact indoor gardening system that allows making room for nine plants. You can choose from various herb mixes to tomatoes, peppers, and flowers.
The AeroGarden Bounty Elite's LED light stand is adjustable to 24 inches in height. Plant food is likewise included in the package, an optional trellis system to hold tomatoes and other plants as they grow. Also, it has the biggest water bowl capacity among the countertop indoor gardens. And it's full color touchscreen provides water and plant food reminders.
4. Modern Sprout's Smart Growhouse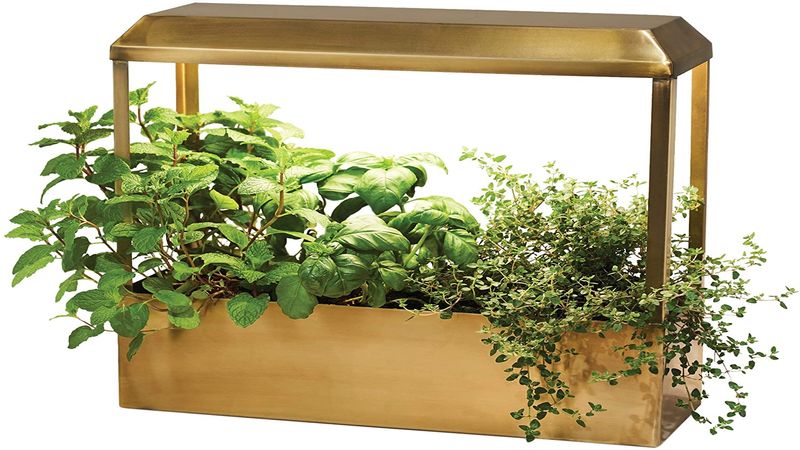 Modern Sprout's Smart Growhouse is one of the most basic indoor gardens on this list but has a stylish brass exterior. It makes a beautiful year-round garden inside your home accessible for all your planting, watering, and harvesting needs.
This indoor garden has built-in full-spectrum LED grow lights that are water resistant, durable, and eco-friendly. In addition, it features a manual on/off switch and can be connected to the Modern Sprout App. You can use the App for customizable programming and pairing recommendations for partial shade, partial sun, and full sun plants.
5. Rise Single Family Hydroponic Garden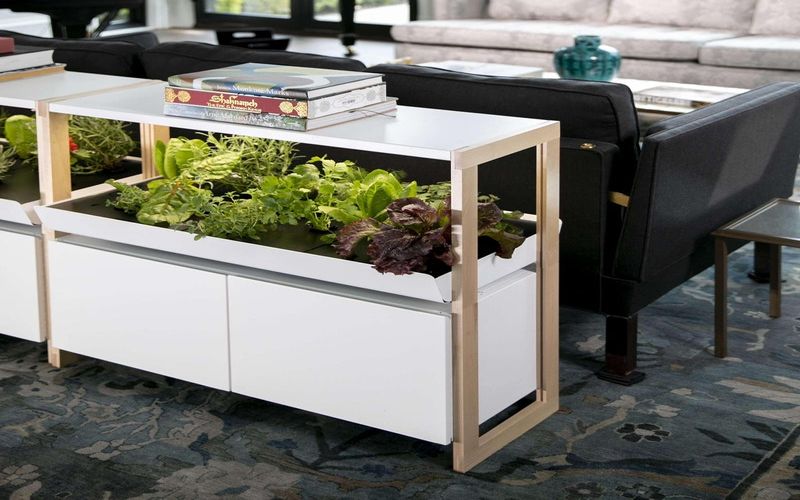 The Rise Single Family hydroponic garden is a stylish indoor garden that blends effortlessly into your living space. This self-watering garden is completely hydroponic. It comes with a five-gallon water tank and LED lights connected to an App.
It houses 12 plants, but you can add levels to increase the sprouting capacity for a regular supply of fresh herbs, greens, flowers, and tomatoes. Sprouted seedlings are available in packs of four for $10.
This model stands out from the rest of our list in the sturdy steel and solid wood design. It looks like an elegant piece of furniture. The Rise Garden can be placed on your kitchen end table or even behind the couch.
6. Lettuce Grow Farmstand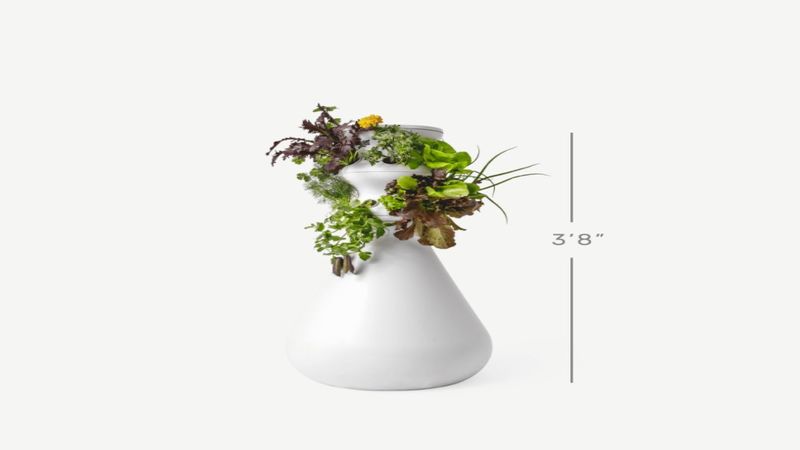 This indoor/outdoor Farmstand is easy to operate. It works by pumping water up from the base to cascade down over seed pods that are filled into the walls. The water pump and LED light rings are designed to operate on timers, so almost zero weekly maintenance is required.
Pricing starts at $348 for the basic planter, with 12 shoot-capacity. However, you can add levels and increase the capacity to as many as 36 nodes.
Buy now for $348 at Lettuce Grow
7. Chef'n Microgreens Grower
This small indoor garden is designed especially for microgreens. It does not take too much space making it a nice pop of green on the kitchen counter. The microgreens garden kit comes with a planter, soil, and seeds. Unlike InGarden, this model has no LED grow lights, so you'll have to place it in direct sunlight most of the time.
8. Gardyn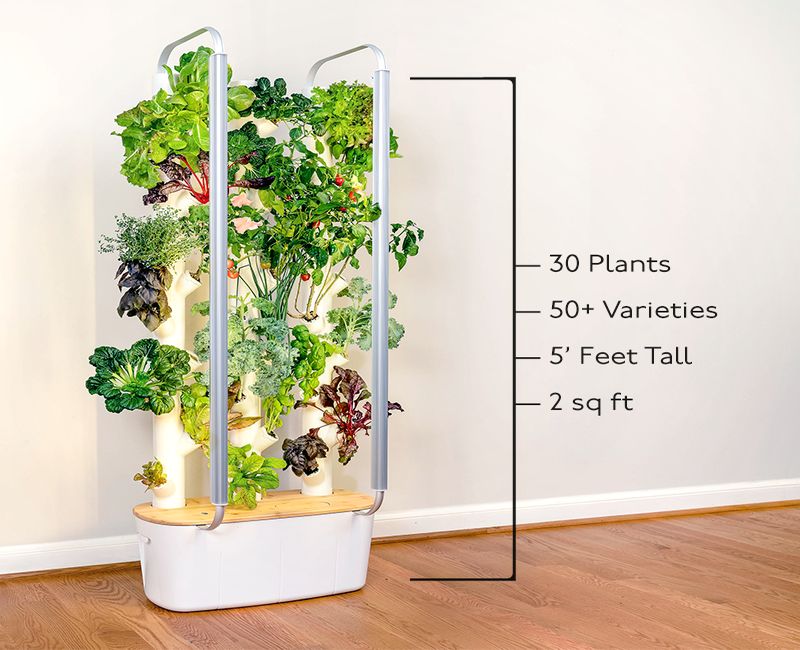 This is another hydroponic garden option fit for a small space. The Gardyn upright grow system can hold as many as 30 plants but takes up just 2 square feet. Plants are watered through the tank and pump, circulating water on a timer. The built-in LED lights, also on a timer, — activate photosynthesis.
Although it is quite expensive, the Gardyn is pretty efficient. It has self-monitors with sensors and actual cameras, so you don't have too much work to do other than cleaning and refilling the tank.
The varying options we have provided in this list will help you start your indoor garden this year. You don't have to run to the market anymore when your recipe calls for a spring of mint or fresh parsley. These indoor gardens let you to cultivate all kinds of greens and even vegetables regardless of where you live or the season.