Design New Year Invitations That Will Get People Talking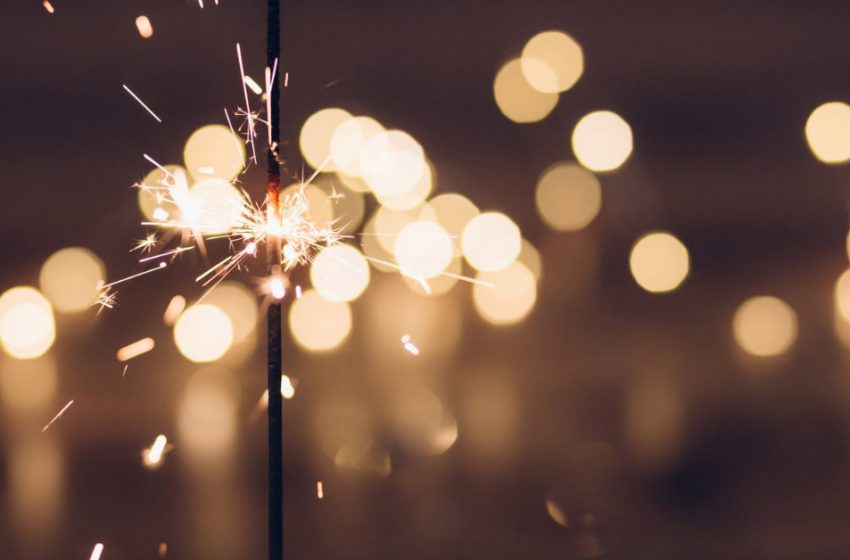 Do you know that celebrants drink over 360 million glasses of reds and whites on New Year's Eve yearly?
Whether it's an intimate party with the family or an all-out countdown party in New York Times Square, people flock to where the happenings are on New Year's Eve.
So if you're cooking up a party this season, make sure to create the most smashing New Year invitations for a huge turnout!
In this article, we're going to give you the lowdown on how to make New Year invitations. We'll also throw in some New Year invitation design examples so you won't get sidetracked in the process.
How to Make New Year Invitations That Draw a Crowd
Any business can leverage New Year's Eve parties to create a buzz and draw attention.
For instance, if you're in the restaurant industry, you can organize a party while offering an all-inclusive buffet. 
Bars usually get on the bandwagon when it comes to New Year's Eve parties. Where else would people celebrate and drink their sparkling? Hosting a special NYE countdown and slashing off your signature drinks for a limited time could be an excellent idea.
Even online stores can get in on the fun by amping up their advertising tactics, but that's going to take another article to cover. 
For now, let's focus on what to include in your New Year invitations to set the mood right. Here are a couple of things you need to consider:
Clear and clever headlines
A clear headline is necessary to catch people's attention. Although a New Year invite contains other details about the party, never drown let them drown the headline.
Also, steer clear from the mundane "New Year's Eve Party" or "Happy New Year Party." Jazz it up by using fun, wit, and puns.
Where, when, and what
The next essential thing people look for after realizing there's a party is where, when it is, and what to wear. Take note that New Year parties don't have to be on the 31st. You can always do it after Christmas and before New Year.
The upper hand for going against the grain is that you won't be competing with other establishments that are throwing a New Year's Eve party as well.
Killer graphics
This last element is crucial for your New Year invitations to draw a huge crowd. Not only will a graphic design set the mood, but it will also reflect the company's branding. Thus, ensuring high-quality and engaging graphics is vital.
Examples of New Year Invitations
Splashes of Color
New Year invitations should be as colorful as the New Year parties. Fireworks, confetti, party hats, and a variety of dresses and suits are a given.
This example uses various colors to put life into an all-black background. However, the colors are toned down a bit by positioning the elements on top and at the bottom only.
Modern Minimalist
If you're looking for a no-fluff New Year invitation with a touch of modern minimalist flair, let this invitation inspire you.
This invitation could be for a wedding, anniversary, or a special couple's celebration at a hotel. The balloons soaked in different colors — black, grey, and gold — alternately positioned against one another, could catch a passerby's attention.
But the real limelight is the use of negative space which resembles a balloon and where the details are cleanly placed.
Wild Wild West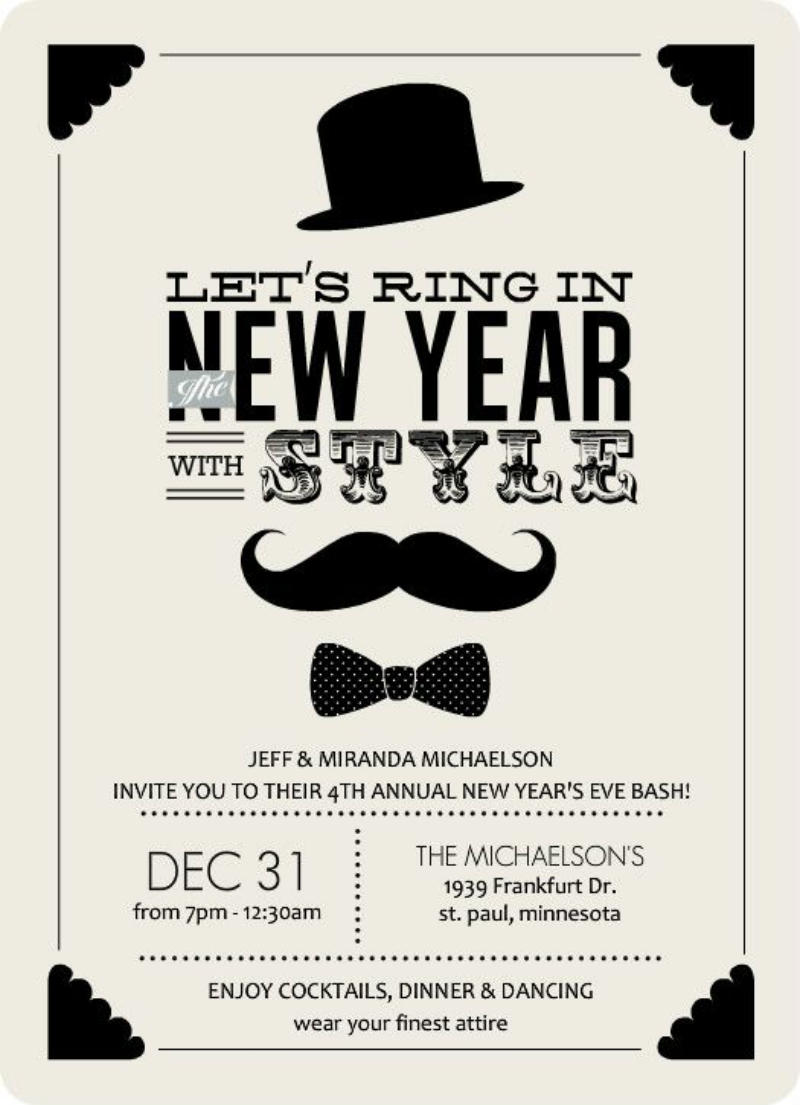 You may also create a theme around your New Year invites to make them fun. Pick a theme that's also synonymous with the dress code. Or you may add specific instructions if necessary.
For instance, when you see this Wild Wild West-themed New Year invitation, you'd instantly think you'll be a cowboy for a night. However, the instruction below says, "Wear your finest attire."
That means you don't necessarily have to wear a cowboy hat and boots to the party. The theme is just there to jazz up your invitation.
Another example of a themed invite is this Casino-inspired party invitation. And no, the party isn't in Las Vegas, but it's in Arizona. The graphic designer was smart enough to use the Las Vegas billboard to complete the overall concept.
Sparkling Elegance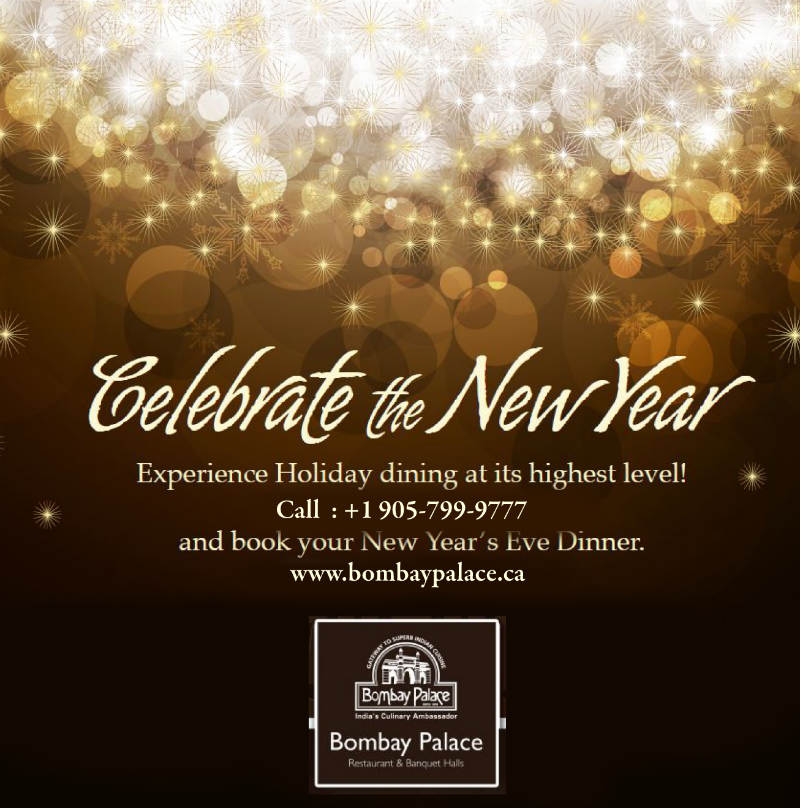 The common themes for NYE parties are Masquerade Balls, The Great Gatsby, Black and White Opulence, Gold and Glitters, and more.
The common denominators between these themes are indulgence, elegance, and luxury.
So if your party is along these lines, make sure your New Year invite is reflective of the theme as well. Check this example from Bombay Palace.
Catchy Headlines
Your headlines will make or break your New Year parties. Craft the most eye-catching and head-turning headlines to achieve your first goal: Coaxing partygoers.
Your headline should be able to stop people dead on their tracks (or computer mouse) the moment they see it.
This one has a unique headline as opposed to the usual "New Year's Eve Party." Plus, a fresh graphic design and soft hues of gold and yellow complement the texts that occupy half of the canvas.
Powerful Drama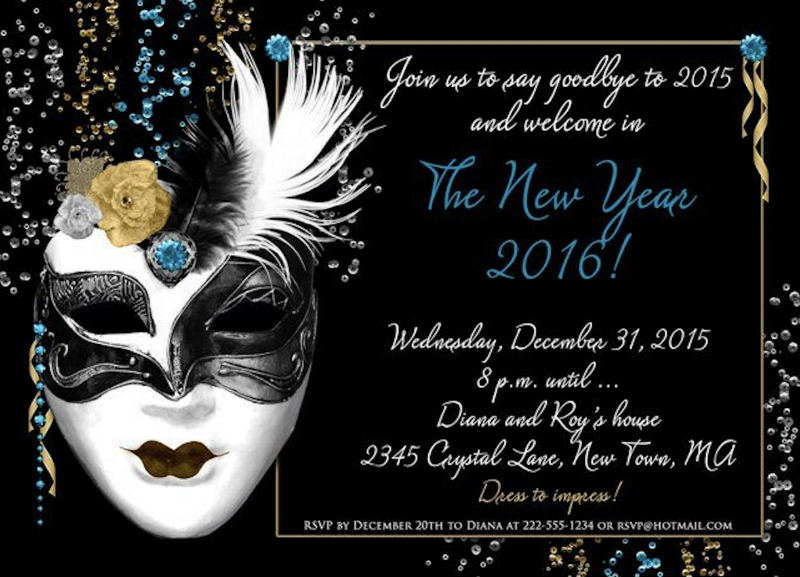 Put a bit of drama into your New Year invitations. While this style only works for formal parties with a dress code, you may also use drama for parties with a serious cause.
For example, if you're hosting a New Year's Eve party to raise money for stray dogs, you can put a picture of the dogs on the invite.
Light and Funny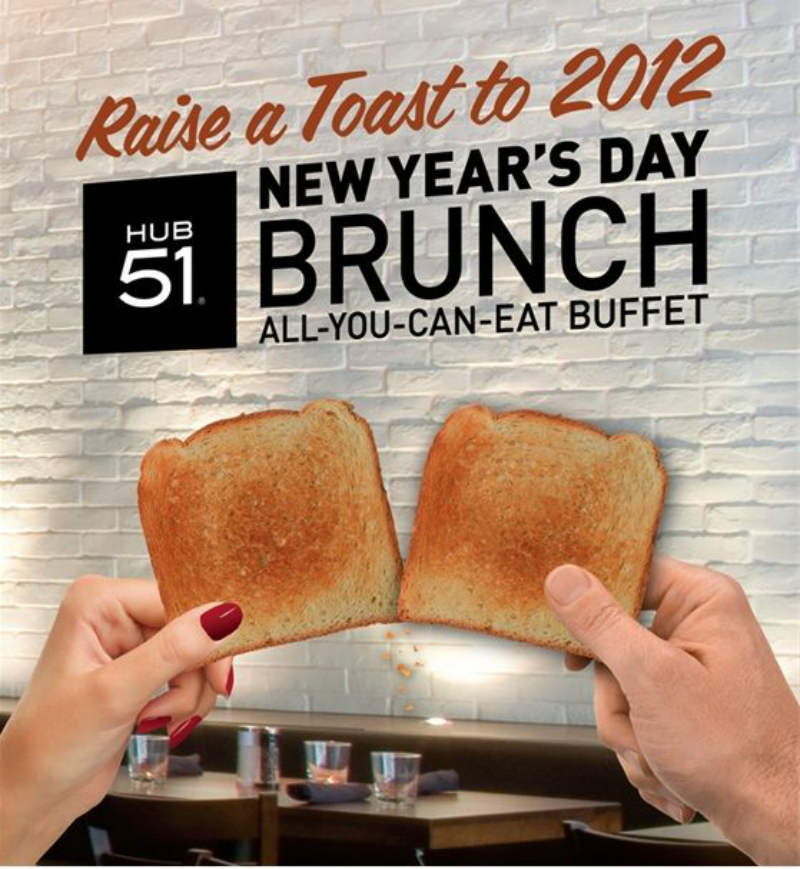 Parties are supposed to be fun and merry. Whether you're hosting a casual or laid-back party indoors or outdoors, show celebrants how it's done by mirroring it on your invitation.
Although this example isn't necessarily for a party, this New Year all-you-can-eat buffet by Hub 51 is the perfect example.
The concept behind the hands holding the toast is to "toast to the New Year." It's a funny way of breaking the mold by not using the typical design elements like wine bottles and champagne glasses.
Wrapping Up
Let these New Year invitation design examples inspire you to make a smashing one this season. There's no rigid rule on how to create New Year invitations; all you need is a dash of creativity. Better yet, get help from the professionals so you can work on other essential things for the party.