How to Create an eCommerce UX Design to Meet Sales Goals
As a marketer, do you have an idea of how your team can improve your company's eCommerce UX design? By now, most of us are aware that creating an 'online store' isn't just about trivial designs and fancy icons. Ecommerce UX dives deep into the consumer's online behavior and their overall experience. 
The power of eCommerce UX shouldn't be undermined. If your UX design is strategic and well planned out, it can increase your conversion rates by as much as 400%, according to TrueList. Not doing so can generally put your business into a total loss. So how are going to revamp your eCommerce website? What are the things you have to consider? What are the trends, and what are the things you need to keep at bay? Read on to find out.
Your Role in Ecommerce UX Design as a Marketer
Your role is important when working on eCommerce UX design. Keep in mind that this is not the sole responsibility of the designers. Your inputs and ideas will be the web designer's foundation in creating an effective website that drives sales. It's crucial that you provide the following information to your UX designer.
Unique Selling Proposition
You need to provide what makes your products or services different from your competitors. The benefits should be highlighted on your website or app. That way, your visitors will immediately know what they could get from buying from you. You have to relay the same to your UX designer because you would want to amplify the USP across the website or app. You have to remind your users about the advantage of your business.
Your Brand's Target Audience
The demographics of your target market are also important in eCommerce UX design. You have to identify the age, the gender, the culture, the device they commonly use, and even their knowledge about technology. For example, you cannot expect senior citizens to enjoy an eCommerce website that has a lot of icons and features. They most likely appreciate a website that has a straightforward design and gives them information the fastest time possible. You cannot just copy the eCommerce UX design of a different industry because the needs of your users vary.
In addition, you have to share your business model. Is it a B2B or a B2C? Remember that end users have a different behavior compared to an agency or a firm. You have to establish this as soon as possible.
Determine Your Brand's Positioning
Another important detail that you have to share with your eCommerce UX designer is your brand's positioning. Do not be vague when providing instructions like, "Just create a fun eCommerce website." This ambiguity will not help and the UX designer might waste a lot of time for a design that doesn't fit your brand. 
Be as specific as you can. Is your product luxurious? Is it for the masses? Do you need it to be colorful? Do you want it to have a minimalist approach? Do you want it loud? Or do you want it a bit toned down? These questions can be answered if you are aware of your brand's positioning.
Marketing Plan
It's also ideal that you include your UX designer when creating a marketing plan. This is so they are aware of the business direction. That will make it easier for them to think of not just the visuals, but how they are going to arrange each page one after the other. 
It's almost impossible to obtain the above information without research and market study. Mere observation will unlikely work as well. And that's where you need to focus your efforts at the onset. 
We encourage that you include your eCommerce UX designer at the early stage of planning. This can save you time and effort in reiterating the specifics. But in case you will outsource this type of service, it would be beneficial to prepare a detailed report indicating the items above. Organize the information and add samples and inspiration to avoid confusion. 
Educating UX Designers on Sales Funnel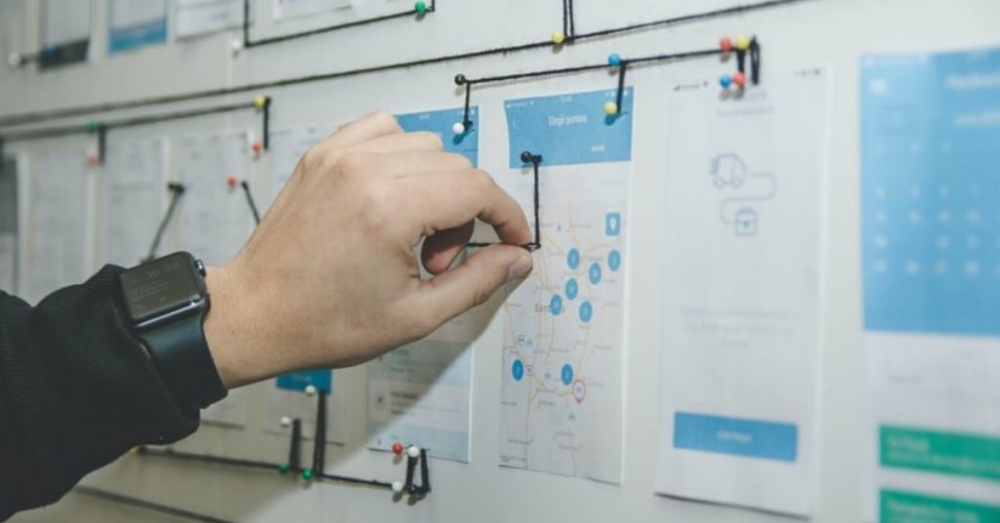 Introducing the concept of sales funnel to your eCommerce UX designer is highly effective so that the website will generate profit. Briefly discuss the purpose of each stage or level and make them understand its importance to the overall UX design.  
Brand Awareness
Make the consumers know that your brand exists. The name of your company must be evident and your products and services must be clear.
Content
This is where the user must have more detailed information about your offering. What are the features, benefits, and uniqueness of your products and services? The user experience must highlight how your business is different from your competitors.
Purchase Decision
And this is where you can include the purchase button or the cart. Remind your UX designer that it has to be seamless and of course, secure. As always, keep in mind that you are not after a one-time transaction. You want people to come back and purchase regularly
Customer Engagement
Suggest to also include a feedback form or an option to subscribe to your newsletter. Customer engagement is your gateway to brand loyalty which is the last stage of the funnel.
Brand Loyalty
And since you also have to address the needs of your loyal customers, you can recommend added features specially made for them. Create a personalized experience for them. Add their name when they visit your website. Or perhaps, use their transaction history and recommend items based on their profile.
Improve ECommerce UX
Assuming that you already have a live eCommerce website or app for your company, you need to evaluate if it's efficient and effective. Test and ask yourself the following:
Is your eCommerce UX design functional or is it just visually appealing?
Will your consumers easily see what they are looking for?
Are there a lot of distractions?
Is the speed fast enough?
Are the call-to-action buttons visible?
Are the product descriptions clear and free from error?
Can they have the same quality of experience using different devices?
Before rolling out your actual eCommerce UX design, you can have a test-phase where people can try out your app and provide points for improvement.
Conclusion
Again, your role as a marketer is significant in implementing and improving your company's eCommerce UX design. Your research and insights about the market will help the designer create a spot-on website or app. This saves everyone a lot of time and effort. And you would be surprised that you are hitting the team's sales quota in no time.