Make Customers Hungry For More With These Food Menu Design Tips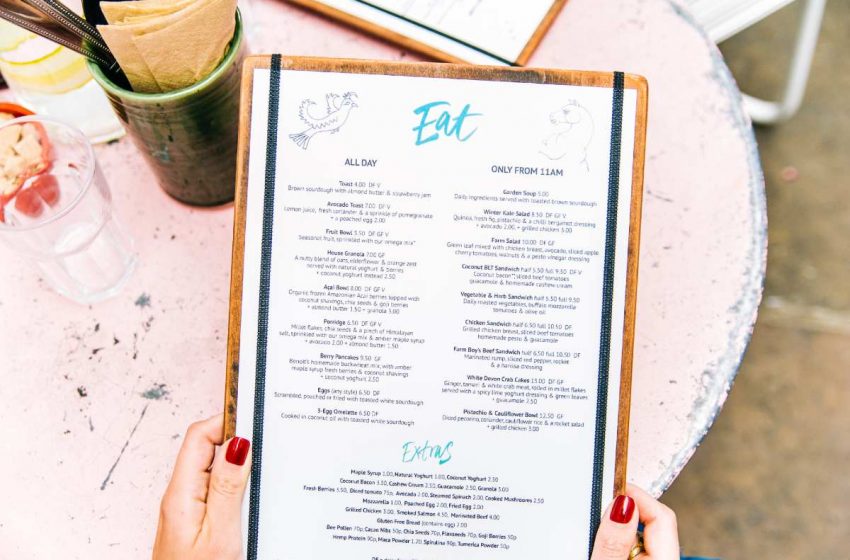 Your food menu design is one of the most vital aspects of your restaurant that requires a great deal of your attention. Creating one isn't as simple as hiring your friend "who knows computers" or getting a free template off the internet. Designing your menu involves thorough research of the psychology behind it coupled with professional graphic design that can impact your brand as well as your success.
The best marketing strategies for your restaurant should result in two main objectives: to get people to come to your place and to get them to spend more money once they are inside. Your menu is the perfect marketing strategy to get customers to order more food and to distinguish you from the competition.
In this article, we'll discuss how you can design your food menu to see an increase in purchases and other opportunities that could provide numerous benefits for your restaurant.
 
Entices Your Customers

A professionally designed food menu is one that uses images and graphics that are crisp, clear, and gets the message across easily. The average diner browses through a menu quickly. The best way to get their attention is by placing pictures of food that will whet their appetite. Choose high-quality photos that capture your dishes well and make your customers' mouths water.
Also, the use of the appropriate fonts can help them stay on the menu longer and order more. Overly cursive fonts are good for names but it is recommended to avoid them entirely for your menu as they can be very hard to read. Choose clean fonts that are easy to read even in dimly-lit interiors.  
Using colors can also affect how diners react to your menu. A study has shown that colors can impact a person's purchasing judgment and have an effect on our appetite. You can put these factors to good use with the right color combination for your menu.
 
Helps with Your Branding
Your food is what your customers go to your place for. The best first impression you can give them is through an impressive menu. From the design to the printing, everything must be professional looking to show them that you take the business seriously, no shortcuts.
A thoughtfully-designed menu will make you look professional and show them that you pay attention to details. You're giving out the impression that you go out of your way to give them a great dining experience. Not only will this help bring sales to your door, but you're also building trust to keep loyal customers coming back.

Highlights Your Best

Every restaurant owner takes pride in their best dishes. A menu with an organized layout will let you point your customers to these dishes. You can place them at the top where people can see them first, or you could place them inside boxes to put emphasis on them.
There are claims that the top right corner of the menu is where you should place the highest-priced items as this is where the eyes would gaze first. But there are also studies that show that people browse through a menu much like browsing through a book. They read from the left to the right.
What works for one may not necessarily work for you so the key here is to experiment. If your dishes on the top right corner isn't being ordered as much as expected, try placing them in a different spot. This can be costly but the results will prove to be more advantageous in the long run as you'll get to know exactly where to place your high-margin items.
Also, don't be afraid to add some white space around menu items. This will make the menu look organized and avoid cluttering. If you have a ton of food choices on your menu, you should think of creating separate menus for each category or try minimizing the number of offerings you have.
You'd think that giving your customers more options to choose from will lead to more sales but research shows otherwise. Cutting down on food items can result in people making better choices so it's highly recommended to trim down items from your menu.
 
Makes Them Spend More

Put the focus on the food rather than the price. You can do this by eliminating the dollar sign on your menu. You can also opt to put the amount in words rather than in numbers—ten dollars instead of $10.
This way, you're making the diners choose the dish that they really want instead of looking for items that cost less. This will pave the way for a better dining experience on their part and more sales on yours. The customers will get the joyous feeling of dining out instead of throwing money away.
You can also place less emphasis on the price by using smaller fonts for them. Another trick is to put prices that end with .95. So instead of a $15 entrée, put $14.95 to make it look more reasonably priced.
 
Builds the Appetite

Use words to your advantage when creating your food menu design. Creative names and descriptions of your food can easily whet the diners' appetite as much as photos. Include the ingredients and how they are prepared so they can have a glimpse of what the dish is all about.
Phrases such as oven-baked or freshly-squeezed can conjure images of good food in your customers' minds. As mentioned earlier, avoid cluttering the menu with too many words. Keeping it short and simple is enough to do the food justice and make diners order them.
On the other hand, generic terms can be short but they won't do anything to stir up your customers' appetite. Words can either make or break you, so choose them carefully.
 
Final Thoughts
Creating the best food menu design is something that requires constant research and study. Knowing your target market greatly helps as well as keeping abreast of trends. A menu shouldn't just be a list of food items with their corresponding prices, it should be a work of art that reflects your brand personality, vision, and mission.